September 19, 2012 -
Jack Bechta
The UFL & NFL could use one another
My phone, along with every other active NFL agent's phone, has been ringing off the hook the last few days. UFL teams have been like boiler room operators trying to secure the best players who are not currently under contract with an NFL team. For a while, I didn't even return the calls because I wasn't sure if the league would get off the ground this year. However, now with their CBS TV contract secured and head coaches Jim Fassel and Kurt Schottenheimer inked, the league will play its first game on Wednesday September 25th.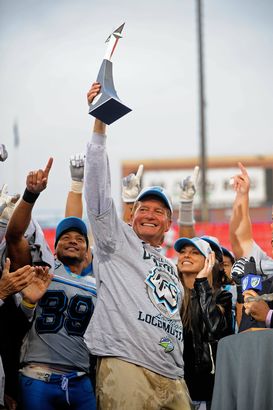 Jim Fassel has had great success in the UFL.
The XFL, The UFL, the WFL, NFL Europe, the USFL have all tried and they all eventually failed. Some came close to making it, one (the USFL) was on the verge of profitability and loaded with stars like Bruce Smith, Jim Kelly, Steve Young and Hershel Walker and another was backed by a major television network. But in the end, they all died a quiet death.
Can the UFL survive and why it should survive?
So why could the UFL (act II) succeed (although they are going into their fourth season, I call this act II because there are different investors, TV partners and leadership)? Like many Triple-A baseball teams, it could be a supplemental, developmental league for young players, especially QBs and even coaches. It can be a parking spot for players who are long in talent but short on technique and production. If the NFL and the UFL would form a developmental agreement, it could be a win-win for everyone.
There is plenty of talent to seed the league.
I was speaking to GM Rick Smith of the Texans on final cut down day this season, and he said to me, "this day never gets easier, there about five guys I am releasing that I would love to keep on the active roster and can help our team". If every GM felt that way, which we know they do, then there are about 160 players who can play on Sundays in the NFL. Distribute those amongst the four current UFL teams and that gives us forty high caliber players per team worth watching. Sure, some of those players will end up on practice squads where they will develop, but many are no longer eligible. In addition, practice squad work is good but nothing can help a player develop better than playing in actual games.
Although NFL Europe was put in place by the NFL to promote football in Europe, the greatest benefit was the development and evaluation of QBs. One GM once told me that the league was worth the investment just to develop QBs. Two of my clients, DT Kelly Gregg (Ravens, Chiefs) and DE Stylez G White (Bucs) leveraged their work in NFL Europe into nice NFL careers. Without it, they may have been overlooked
The potential structure
If we had eight UFL teams that were affiliated with four NFL teams, or one UFL team per NFL division, that UFL team could act as their AAA team. Thus fans of those four NFL teams may follow that UFL team to watch the development of their respective team's future players they got to know during the pre-season.
The Sacramento Lions have signed 63 players in just four days. Many of their players have NFL starts, like former Bucs QB Josh Johnson. The reason they were able to move so quickly is because some of their coaches/front office people have NFL experience along with an active network of agents and NFL personnel directors. For example, seasoned pro evaluator Bobby DePaul (formerly of the Bears) of the Sacramento Lions can call NFL teams and ask them, "who are the best players you had to cut?" Then turn around and call that player's agent (who is probably already programmed in his cell) and give him or her a pitch on signing their client with his club. Because Bobby is still highly respected throughout the league, NFL pro personnel directors can call Bobby and ask him about which players of his can help their team when they need to pick up a player during the season. In addition, The UFL allows these players to leave the club during the season for one NFL workout and/or to sign with an NFL club.
If formalized, the relationship between these two leagues can greatly benefit each other. It could give about 400 players currently on the street, a place to develop. It could give young and minority coaches a place to learn and it can give fans in smaller markets a local football product to consume and enjoy. It can even be a great place to develop NFL officials.
Follow me on Twitter: @Jackbechta