December 21, 2011 -
Jack Bechta
Training Game
As a collective community, NFL agents spend an estimated 8 million dollars in the months of January and February preparing each draftee for their Combine debut and their respective pro days. Pro days are the days where NFL scouts, coaches and general managers come to campus to see an expanded in depth position specific workout they wont get at the NFL Combine.
Our jobs as agents is to make sure each player is physically and mentally prepared for their most important career audition. A stellar performance at the Combine can translate into a higher draft position, bigger signing bonuses and less pre-draft stress.
The popularity of the Combine pre-draft training business over the last decade has not only grown enormously but has also become an intricate part of the agent recruiting game. For one, agents will pre-purchase a fixed number of slots at the more well know facilities and then promise them to prospective new clients. The pitch is that "you have to sign with us if you want to train at the top facilities". Unfortunately, top draftees are so focused on training versus the long-term relationship with the agent that it usually sways him to sign with the mega firms who have contracted to lock up these slots.
Although these facilities are important because they provide a structured environment for the players to train, they have also become a part of the recruiting process for the agents who buy their slots. They won't ever admit to playing favorites but they usually serve those who are writing the biggest checks. And yes, I have sat, and currently sit on both sides of the fence because I own slots at these facilities and have been shut out in the past from acquiring them.
However, unlike some of my competitors, I don't try to rely on the slot as my #1 sales pitch for landing a client. I have used just about every facility in the country and have come to the conclusion that some are better than others, some are simply factories with little focus on individual needs and others are slaves to the biggest agencies who pay them a premium for their slots.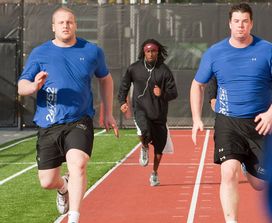 Some players prefer combine training facilities while others choose to train at their respective schools.
In 2000, I actually sent the first class to a brand new Athletes Performance (API) in Tempe, AZ. At the time, founder Mark Verstegen broke off from IMG Academies in Bradenton, Florida and started his own company which now has several locations in CA, TX and FL. If you talk to the representatives for API they will tell you that each facility is equally as good regardless of its location. If you talk to the agents who bought their slots, they will tell the best facility is the one they own a slot at.
There is also a lot of smoke and mirrors marketing going on as well, which confuses draftees and can anger (or please) agents. For example, I noticed a few different facilities have given the appearance that a well-known Packers player has trained at their facility for the Combine. However, he only trained at one. What actually happens is the player may have trained at the facility for a few weeks in the summer but they advertise him as an alumn giving the false impression he trained there for the Combine. Even though this is deceiving, it doesn't really matter if the trainers are competent.
One of these high profile facilities has aggressively marketed to me for the past year. When I called in late November to inquire about purchasing a slot, their exact answer was, "We are not sure there is one available, however if your client is a potential first round pick we would find room for him". This facility wants the best players who will be drafted the highest so it can help them in marketing for future classes. This is some of the crap that players and agents have to put up it with this time of year.
I actually think the mark of a good facility is one where the players consistently return to year after year. One top facility gets very little in the way of repeat customers. The bottom line is that competent and experienced trainers, regardless of what their facility looks like, can prepare draftees for the Combine. After all it's a test we have the answers for in advance to practice over and over again.
The pros and cons do vary from place to place and some players even decide to stay at their school and train with their strength coach who knows their body, injuries, strengths and weaknesses better than anyone else.
The draftees I have represented over the years from Iowa stay put with their strength coach, Chris Doyle. Iowa players usually excel at the Combine and usually always do better than the players who leave for what are called premium-training facilities. Other schools who offer training where some players stay are USC, Wisconsin, Stanford, Texas A&M, ASU, TCU and Utah. These schools provide the time and resources geared specifically for the Combine.
CONTINUE READING ON PAGE 2