April 24, 2013 -
Jack Bechta
Uncertainty is the only certainty
Let's take a look of what you may not know about the NFL draft: power plays, crashed dreams, egos clashing and more.
Surprise! Surprise! Surprise!
When a player like OL Logan Mankins gets drafted in the first round and the so-called draft gurus are surprised, if it's your team, please don't panic. The fact is that a pick deemed to be a "surprise", a "shock", or a "reach" by the media may not be so by 32 NFL teams. Only time will tell how to label the pick but it's probably the media draft experts who underrated the player in the first place. Please keep in mind that NFL teams have ten to twenty times more information on a player than the media. Teams and their platoon of evaluators visit every campus, talk directly with college coaches, trainers and the player himself. Teams have access to school records, police records and medical files. Some teams (coaches, scouts, front office) may have spent over a combined 80 hours of film study on just one player while the media expert completed less than 2 hours. So when the word "reach", "surprise", and/or "shock" is used with the draftee/pick, give the team, who has more hours and information on a player, the benefit of the doubt.
No one really knows!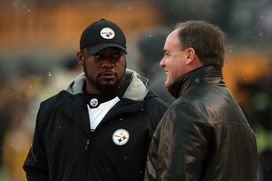 Kevin Colbert and the Steelers keep emotion out of the process.
I laugh when I read somewhere that teams are going to pick player X in a certain round. Additionally, when a client (or parent) asks me what team I think my player will go to, I always answer, "I'm not sure". It's because the draft is very unpredictable. Any odds maker, mathematician or actuary will tell you that the combination of thirty-two teams, selecting out of a pool over 500 players (counting ranked undrafted priority free agents), can have tens of millions of outcomes.
A typical strategy for team evaluators is to simply rank their board of players, place a value on them, and let the draft unfold and react to what is in front of them. It's supposed to be a very unemotional process. That's what makes Ted Thompson, Bill Belichick, Ozzie Newsome and the Steelers staff so good at selecting players. They trust their board and don't chase players. There are however, circumstances where teams feel like they have to have a player or a certain position and they answer that need within the first two rounds or by trading up. Even though Seahawks GM John Schneider LOVED QB Russell Wilson, he was patient enough to wait until the third round while risking losing out on him. Therefore, outside of the first five or ten picks, teams, agents, and the media really can't predict whom they will end up with.
Great expectations are smashed!
There will be only thirty-two players selected in the first round of the draft. However, there are over one hundred and fifty or more that really believe they have a chance to be a first round pick. Why? Because their naive agents, parents, friends and the media tell them that it's possible and the player believes it.
Now trust me on this, even though there are only thirty-two players selected in round 1, there may be fifty to sixty players worthy of being picked. It's the agent's job to set the client and his family's expectations correctly.
In 1995, I represented Arizona's stud Nose Tackle, Jim Hoffman (part of the great Desert Swarm defense). Before the Internet became popular, the USA Today draft preview had him rated as the #1 nose tackle and a certain first round pick just days before the draft. Needless to say he, his family and friends had high expectations of being an early pick. The result, Jim went undrafted because of damage to his knee that was only discovered at the Combine. One team gave me a whisper of the report just days before the draft so I could at least reset the player's expectations. However, even I didn't expect him to be undrafted. There are numerous occasions where a player is red flagged for a physical and/or drug test and the information never makes it to the agent, the player and/or the media. Thus, many players' dreams are crushed during the draft process. If there is one sitting in Radio City Music Hall in New York this week, ESPN will gladly point him out to you.
CONTINUE READING ABOUT THE DRAFT ON PAGE TWO...