December 09, 2010 -
Jack Bechta
Underclassmen have questions
Underclassmen will have a harder time figuring out what to do in 2011.
Each year, about 50 underclassmen apply for the NFL draft, there were 53 in 2010. All have different reasons why they choose to come out early. Some are going to be fifth year seniors, some claim financial hardship, and others just want to start getting paid.
So how do these young men make this important decision? Where do they get the information to make an informed decision?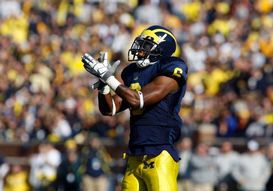 Donovan Warren declared early in 2010 and went undrafted.
It usually starts with the head coach, who probably doesn't want to lose him. In addition, many players are intimidated or just don't feel comfortable using their football office's resources. The conundrum for the underclassman is that if they ask their coaches about going into the draft, they may be perceived as being selfish. One the other hand, if they asked an agent, they will usually get an answer that is beneficial to that agent. If they rely on draft web sites to get a gauge where they might be drafted, they will naturally gravitate towards the ones that have them rated the highest.
The only real source of unbiased intel is the NFL Underclassmen Advisory Committee. This committee evaluates underclassmen and returns a draft round projection. However, the tricky thing about the projections is that they are based solely on film evaluation by scouts. One fault of the system is that it doesn't account for injuries, character and verified measurables such as height, weight, agility and 40 times. Therefore, a junior can be projected as a second round pick, then run a bad 40 time or get red flagged for an injury at the Combine and slide down 2 or 3 rounds.
To make matters even more complicated for juniors, this year will be the potential of a lockout and a rookie salary scale. Both of which, are looking more and more likely every day.
For a junior considering coming out they must realize that 2011 may be void of NFL mini-camps and offseason workouts. This is when and where rookies learn the play book, the systems, the schemes, the calls, and how a team operates. There is no doubt that a senior year helps in the development of players, especially at a skilled position. The jump from college to the NFL is challenging enough as it is. It's even more so for underclassmen. To add in the layer of not having any offseason tutelage to grow and learn will make the jump even that much more difficult if a lockout occurs. It's possible that that an underclassman could declare, get drafted, and then be thrown into a shortened fast paced camp in mid-August or September without any work in between.
The other question facing underclassmen is; what will the salary for rookies look like? If there is long protracted negotiation between the NFL and the NFLPA, a rookie wage scale may not get implemented in 2011 and the current system could last one more year. However, everyone I speak to in the industry feels that there will be limits to guaranteed money for rookies in 2011.
I personally feel that a player should make his decision based on his ability to make a team, not just what round they think they are going to be drafted in. If he can improve his chances by staying another year then stay. Sometimes, it's just a no brainer for those who look to be first round locks. For others projected lower, please be careful because the absence of an offseason environment and abbreviated camp could be a career killer.
Follow me on Twitter: @jackbechta