November 07, 2012 -
Jack Bechta
What Browns fans will get with Joe Banner
Upon the signing of my 1996 first round pick, OT Jermane Mayberry with the Eagles, I got to know Joe Banner on a few different levels. It was obvious that owner Jeffrey Lurie gave him full reign of the Birds. Joe didn't and doesn't come across as football guy's guy. He appears more like the Monday morning locker room expert at the racquetball club. But don't let his appearance fool you!
When I first met Joe, he was transparent, unassuming and spoke without a filter. Over the years, I did several more deals with Joe and made it a point to visit him about once a year to keep up a solid GM-agent relationship for the current and/or next client of mine they may sign.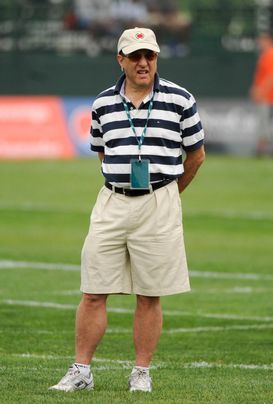 USPRESSWIREJoe is smart, patient and calculating in every decision he makes.
Many things have changed since 1996 and there are a lot more moving parts to running an NFL team. As for Joe, and many of those whose position has evolved over the last decade and a half, he learned by being on the front line in every aspect of the football business. From negotiating contracts, training camp leases, radio/media sponsorships, hiring /firing coaches and front office men, directing PR initiatives, pre game entertainment, and stadium leases to overseeing the team's cash flow and attending league meetings, Joe has seen it all.
Joe was an easy target for the venomous Philly media, envious football people who coveted his job and even players and coaches who at first saw him as an outsider to their football world. His meek CPA type appearance, coupled with his soft tone and invisibility during tough times in Philly had his named cursed and ridiculed from Broad Street to the Senior Bowl to the Combine (two places where football men drink and gossip like mean school girls). You have to understand this; football people divide the entire world into two parts: those who played the game, and those who watched the game. They secretly only respect those who have played. The only exceptions are the owners who write their checks. Joe had an uphill battle in earning the respect and trust of these football people. He eventually did.
I once had a working lunch with Joe in his office. On the way in I tuned into the Howard Eskin show. A caller called in and said he saw Joe Banner on the golf course that day. The caller complained that Joe should be getting draft picks signed and taking care of some of the Eagles' many problems. Of course, Eskin and other callers piled on Joe. However, Joe was nowhere near a golf course in 6 months and was waiting for me in his office. When I told him what I had just heard he just shrugged it off as part of the territory of the job. When I got back in my car two hours later the host and callers were still bashing Joe. It's the Philly way and Joe was initially the media's punching bag until things got turned around with the hiring of Coach Reid.
CONTINUE READING ABOUT JOE BANNER ON PAGE TWO...