September 16, 2010 -
Jack Bechta
What is a real NFL insider?
If you search the internet, you will find thousands of "NFL insiders". However, the majority of them have never been inside a team building, played the game or even worked in the industry. The "insider" moniker gets leveraged in order to garner your eyeballs, time and money.
As I negotiated my way through my career as an agent, I always relied on dependable sources for my intelligence. I would often call trusted GMs and personnel directors before placing a free agent or undrafted free rookie. I liked getting second opinions from those who worked in the trenches of their respectful fields. To me, an NFL insider is someone who has real world experience, firsthand knowledge of the subject matter, and an active rolodex of those who make the decisions that shape the league. A real NFL insider is respected by all, and they get their phone calls returned.
Former head coaches, GMs, and players are true insiders, especially if they keep an active network. However, their clout may dwindle as they get older, become out-of-touch or even if they were unpopular when they were working in the league.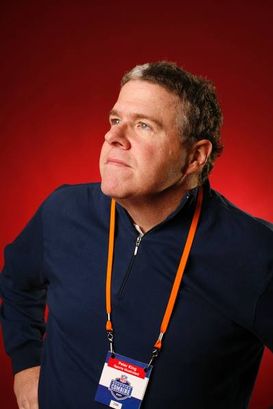 IconPeter King is among the few who have integrated themselves with the NFL community.
Several personalities in the media have actually crossed over from being on the outside looking in to being an accepted insider. Chris Mortensen, Peter King, Jay Glazer, Dan Pompei, and Pat Kirwan are honorary members of the NFL community. When these people call a player, coach, GM, owner or agent, their phone calls are usually quickly returned.
Within local markets, hard-working reporters like Mike Reiss in Boston, Sal Paolantonio in Philly and several others have built up trusted relationships with players, agents and front office executives.
Agents are great resources for information. As a matter of fact, agents may be the number one source for the rest of those who call themselves true insiders. According to agent Ron Del Duca, Mike Florio originally launched ProFootballTalk.com with him as a 50/50 partner. Over ten years of relentless work, Mike cultivated and parlayed a relationship with a small group of select agents into a mass media business. He still relies heavily on the agent community for most of his scoops.
I've written before how agents also use the media as a tool for beneficial propaganda. So you as a consumer of NFL news have to know who you can trust. Teams also use the media, as do the NFL and the NFLPA, to get their respective messages out.
Even though I write a journal here for the NFP, I personally keep a low profile when it comes to sharing client intel with reporters. I have to admit that I am amazed sometimes how quickly news can travel when there are only four people in the world who are supposed to know about a freshly completed deal or transaction.
When reporters depend on agents for scoop, they will also go the extra mile in supporting the agents' causes by promoting their players or even not reporting a negative incident. For example, this summer, a prominent agent was asked to leave the campus of an ACC school by the head coach. News of the incident got out in the industry, but the agent has been too good to the media for them to report it. Thus, they don't want to hurt their source. For the record, it's my understanding the agent was not violating any NCAA rules at the time of his visit.
As media outlets continue to expand at dizzying rates, so does the competition for information. Twitter has emerged as the fastest way to get news and breaking stories. However, many reporters have stumbled along their way in the race to be first. Several so-called "insiders" simply regurgitate news as their own without actually doing the work or checking the details. Most can get away with it because they may have a big brand media name behind them.
I'm here to tell you that many of the names you may trust are not real "insiders". A lot of the news you receive is greatly sensationalized, watered down, or is placed out there for strategic reasons.
If you want to ask me what I know…"no comment".
Follow me on Twitter: @jackbechta