August 14, 2013 -
Jack Bechta
What's with all the injuries?
In just the last three NFL preseasons, I've had 3 different clients tear their ACL during training camp. One player, AJ Edds, tore both his left and right in two different preseasons. To date, according to the SI.com injury tracker, there have been sixteen impact starters go down so far with different season ending injuries. In addition, many media outlets are claiming there are more injuries this year than they have seen in previous years.
The players negotiated several safeguards in the recent CBA that were implemented to protect their bodies. As a result, we now have less full contact practices. No more two-a-days. Along with more built in recovery time. So are there more injuries? Or does it just seem like there are more injuries?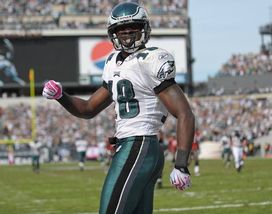 Jeremy Maclin is just one of several impact players to suffer a severe injury in the preseason.
One team trainer I spoke to feels like the injuries are about the same as he has seen in previous years including years before the new practice rules were put into effect. However fewer practices should mean fewer injuries, right?.
To shed more light on this subject, I asked orthopedic surgeon and sports medicine expert, Dr. David Chao, a 17 year veteran NFL team doctor, about his thoughts on the current rash of injuries.
Q: Is the current rash of injuries due to the lack of offseason conditioning/practice or due to the lack of acclimation as postulated by some NFL commentators?
Dr. David Chao: "It could be, but I don't think so. I think players today come to camp in shape. Most know they have conditioning tests on day one and weight to make. Many performance bonuses are associated with these benchmarks as well as potential roster spots. Players know this so I don't believe they come into camp unprepared."
Q: So why would there be the same or more injuries? Under the new practice rules of one padded practice per day (as opposed to up to 2 in the past), why aren't we seeing a decrease in injuries during camp?
Dr. David Chao: "If anything, we are seeing the same or more. Certainly media coverage is ever intensifying and now everyone knows about the backup lineman that is injured. So that may account for some of it. Also, there is normal statistical variance. However, I feel there may be additional reasons. First off, league wide, practice tempo is being sped up. It's not just Chip Kelly in Philadelphia or Joe Philbin in Miami. The name of the game around the entire league is speed and tempo in practice, which leads to more practice plays and higher chance of injury. Many teams also use multiple practice fields simultaneously thereby increasing the number of practice plays and thus potential injury. It's really a simple equation; more plays at game speed equals more opportunities for injuries."
Q: Why more ACL tears this preseason?
Dr. David Chao: "ACL injuries, contrary to popular opinion, are most commonly non-contact injuries. They occur at high speeds. Injuries occur from planting and cutting maneuvers more commonly than from contact. With the increased practice tempo, this environment is created. I am not saying that coaches are purposefully creating dangerous conditions, I am just observing that the speed, tempo and number of plays in practice can contribute to an ACL injury. The more game like speed and the more plays, the more potential for ACL injuries. I think this may account for the ACL injuries we are seeing. We certainly aren't seeing a decrease. In addition, I don't believe it is due to players coming to camp in worse shape or tendons/ligaments not acclimating as postulated by some media experts."
"This phenomenon is likely occurring due to human nature. Coaches want to be prepared and succeed. They are conditioned to a certain number of practices and plays. Now that practices are limited, they have to find ways to continue to prepare their team. The result is higher tempo, more speed and simultaneous practices. Walk-throughs are no longer for substitutions and formations. They are essentially used as non-contact practices."
One AFC west pro bowl lineman I spoke to about this subject matter said that he thought, "walk-throughs are no longer walk-throughs, they are run-throughs. In addition, there is more classroom/meeting time, which means more sitting around, which means more stiffness to the joints and muscles. I'd rather be moving around than sitting in a classroom for long periods."
To combat this particular issue, one AFC trainer told me they have wisely implemented a 35 minute foam roller period after walk through and before meetings to prevent lactic acids from gathering, which causes stiffness and longer recovery times. His team isn't seeing many injuries.
Last week I watched three quarters of the Bengals first preseason game to see my rookie client OL Tanner Hankinson. At the end of the 3rd quarter I set the DVR and went to grab some food. On my way to the store I get a text from a buddy that reads, "I think your client just blew out a knee". Of course my reaction was laced with several curse words and a few palm slams to the dashboard. Tanner was having a stellar performance and showing great promise. My buddy saw Tanner get carted off the field and the body language of the trainers/doctors was typical with an ACL or ligament tear.
Fortunately, my client got back to me with a message saying that it's probably a severe ankle sprain and the exit from the field was overly dramatic. I'm sure it was, but I am also sure the trainers/doctors were being conservative and not taking any risk, which I for one am happy to see. With the Commissioners focus on safety this season, get ready for some soccer like reactions to injuries with more spine boarding and cart-offs than we've seen in the past. With all the focus on health and safety, the medical personnel will start to look over their shoulders. Monday morning quarterbacking isn't just for coaches anymore.
Follow me on Twitter: @Jackbechta