June 27, 2012 -
Jack Bechta
When is it time to call it quits?
I can't count how many of my clients I represented over the years walked away from the game completely on their own terms. I can't count them because there weren't any. The end of a career sneaks up on most players without warning or without transparent communications from their last team. Outside of Brett Favre, Barry Sanders, John Elway, Michael Strahan and some of the other super talented exceptions, I would say that 97% of players leave because of injury and/or there just aren't any takers willing to sign them to a contract.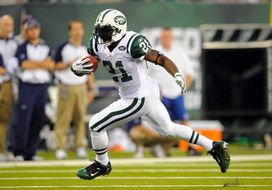 ICONLT may have some production left in the tank, but opted to call it on his own.
There was a study/survey of retired players called the Michigan Study in which 40% of the older retired players and 27% of the younger retired players claimed they walked away from the game on their own terms. Sorry guys, you didn't, I have never seen it. A sense of pride may make you think that's the case but the reality is that the players most likely had no concrete options. Then of course is the "stay in shape all offseason option and take the minimum offer with no signing bonus" (in 2012 the minimum for a vet with 7-9 credited seasons under their belt is $825k). This is really tough for a lot of guys to do after getting paid several millions of dollars, guaranteed portions, and multiple bonuses. However, the guys who just love the game with great passion and/or need the money will be ready.
So when do most players know its over? They Don't! Here are five "hints" that its time to pack it in:
Your agent doesn't return your calls: Most good agents will work for a player until 32 teams say NO 3 times each. However, many agents don't have the backbone or the work ethic to makes the calls and then tell the player its over. The irony is that this is when a savvy agent can help a player get an extra year or two on the back end of his career.
You ended on a bad play, in a losing game on a bad team: Bill Parcells once told me "sometimes it can only take one play". Meaning that coaches can get so mad at a player that they don't want them around the next year. Coaches do call each other about players sometimes and a bad reference can be a career killer. Furthermore, not too many coaches and pro personnel directors are scouring the waiver wires for players released from really bad teams.
You finished the season on injured reserved: Out of sight and out of mind. This is where a good experienced agent comes in. He/she has to educate teams on the specifics of his/her clients' injury. A good agent will keep their name active and share accurate information about a player's health and availability.
CONTINUE READING ON PAGE TWO...