August 17, 2011 -
Jack Bechta
Who's in charge of college sports?
Even though I received a full scholarship to play college football, I am not a huge fan of the NCAA. In my 25 years of experience in representing college coaches and college players making their way to the NFL, I have observed and have little respect on how the NCAA operates. If you can see what most agents see, enforcement of their own rules are a joke! The NCAA moves as fast as snail in its performance and can be biased in who they choose to reprimand. The organization is wrought with conflict of interest and has a black tower mentality in the treatment of the student athletes. It is even said they have looked the other way when it serves their bottom line. In addition, they have little accountability to anyone and many wonder if the generous bowl committees and big media are their masters.
Although a powerful governing body is desperately needed to oversee college sports and its member institutions, many wonder if the NCAA could use a major overhaul.
Enforcement, what enforcement? I pride myself on being an ethical agent and say with pride that I honor NCAA rules regarding improper benefits to student athletes. And yes, this is a problem but it's not just the agent community and it's widespread. We as agents know which players are getting paid and who is paying them. That fact it took the NCAA about four years to investigate the Reggie Bush infractions is outright laughable. Everybody in Southern California knew what was going on and the investigation should have taken 4 weeks or at most 4 months.
I once had the NCAA tell now retired client, then Falcons WR/KR Tim Dwight he couldn't come back and run track for Iowa even though he had a year of eligibility remaining. They told him that since he was in the NFL and took part in an autograph singing, the money he earned was that of a track athlete and of an NFL football player. If my memory serves me correctly, Tim made about $6,000 for signing some pictures of himself in a football uniform, not a track uniform. I of course fought the accusations and battled the NCAA for weeks as Tim was missing track meets he sacrificed so much to prepare for. It was like fighting the CIA. All communications were via fax, and overnight letters with no real person to speak with. I was battling faceless committees who only met about once every few weeks.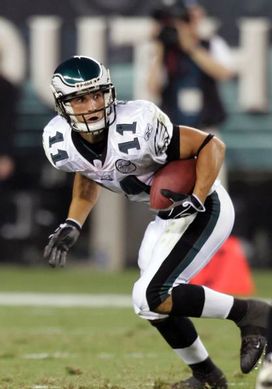 ICONJeremy Bloom was forbidden by the NCAA to play football at CU while also taking ski endorsements.
Although Tim was eventually cleared to run track for Iowa, the NCAA would only allow him to do so by paying back the money he earned for signing autographs. However, the amount of time and resources that went into this witch hunt for a kid who made millions for Iowa University is a microcosm on how the NCAA operates. Ask Jeremy Bloom formerly of the Colorado Buffaloes.
Meanwhile, there are hundreds of football, baseball and basketball players receiving inappropriate benefits from boosters, financial advisors, agents, marketers and general wannabes. For whatever reason, college baseball never gets a good look as the NCAA lives with the cozy relationship baseball players have with their agents, excuse me, "advisors", which they are allowed to use, who also happen to be agents.
The NCAA should spend some of its millions on a real enforcement arm if it wants to be taken seriously and send a message. The NCAA investigates issues after athletes are long gone from school while making millions in the pros. Then they apply sanctions to the coaches and kids who had nothing to do with the infractions.
Here's another example of how they operate: North Carolina HC Butch Davis heard the rumors about John Blake, so he asked the NCAA to check into it before UNC hired him. The NCAA informed Coach Davis that Blake was clean and could be hired. The NCAA may not have thoroughly done their homework as he was allegedly involved with NCAA investigations. Within the agent community, Coach Blake was openly suspected to be a bag man for at least one former agent. There are still several bag-men still working the college sidelines but for some reason the NCAA won't go after them.
Take on the NFL model
It's obvious who is running college athletics; it's the football programs and their conferences. The recent forming of the mega conferences and universities acting like free agents following the TV money is an example of where the power lies in college sports.
It is yet to be seen if fourteen-team super conferences will be good for all of college football and basketball. Regardless, the bottom line is that it seems that there is no governing body to oversee the long-term best interests of college football and basketball.
Could you imagine if the NFC East was able to recruit the Steelers to join their conference? The NFL has empowered the Commissioner's office to police and protect the owners from themselves. A similar model should be put in place for college athletics. As of right now, it's the conferences that are dictating the shape of all things to come. This is ridiculous as the creation of 3 super conferences could lead to the deterioration and eventual death of four other conferences. Shouldn't the NCAA have the power to control the balance of power, limit the amount of teams a conference can have, and or set some free agent rules for all schools including Notre Dame, Texas or Texas A&M? Well maybe they already do but I'm not seeing it, as they seem to be a simple bystander as the conferences are reshaping themselves. Damn, I miss the Southwest Conference!
Adopting an NFL model, where the NCAA, given that they have qualified leadership in place, can act as a fully powered commissioner's office, may be helpful in setting an even playing field for all the conferences and their member universities.
Spread the wealth
While NCAA president Mark Emmert says he won't increase or pay student athletes under his watch. Big Ten Commissioner Jim Delaney says he will take a serious look at doing so. So who is calling the shots here? Are these guys on the same page? Who knows!
The value of a college scholarship should not be dismissed as a credible value trade for an athlete's services. However, over the last 25 years the economic model has changed dramatically with hundreds of millions more pouring into the NCAA and conferences coffers. That money then goes to building bigger stadiums, with more luxury seating, basketball arenas, higher coaches' and administrators' salaries along with carrying the cost of the majority of college sports that lose money every single year. I have been a big advocate of passing that on to those who help produce the revenue. It can be done in ways that keep the balance of power in place, where the true cost of attending college is met for the student athlete in the money-making sports.
I know there is a passionate argument that student athletes are getting fair value already from their scholarship. However, I guarantee you this, if you worked for Boeing, Delta Airlines or UPS and the income of your company increased five-fold over the last ten years, but your salary and benefits have stayed flat, you would be standing behind your union representatives and lobbying and/or even striking for that windfall in profits to be passed on to you, the worker. Why shouldn't student athletes have that same right? The NCAA says in its mission statement they were formed to "protect student-athletes". However, those athletes are all forced to sign the same scholarship agreement which assigns all their income potential to the NCAA and its schools. So the governing body who is responsible for protecting student athletes is also the same entity who is helping its member schools (management) reap large amounts of revenue for their bottom line. Isn't this akin to a company's board of directors also acting as the workers' union chief? If yes, then isn't this a conflict of interest?
Although there are resources and entities in place for student athletes to lean on for counsel and protection, there is no truly empowered body that champions their best interest. That power should not be in the hands of the NCAA, they are closer to management then to labor.
College sports is now a multi billion dollar business closely rivaling that of pro sports leagues. The scary thing is that even more money is coming down the pike once the conference networks mature and start producing even more revenue. A major overhaul of the whole system is needed right now and it should start with the NCAA.
Follow me on Twitter: @jackbechta