May 02, 2012 -
Jack Bechta
Will Belichick Start a Trend?
Rugger Nate Ebner quickly became one of Ohio State's most valuable players after walking on in 2009.
Since signing rugby star Hayden Smith to the Jets, I've been getting lots of emails from England, South Africa, and Australia about Rugby players who could potentially make it in the NFL. I also have received some emails from international rugby fans who fear the NFL might make a run at their talent pool and cherry pick their best players.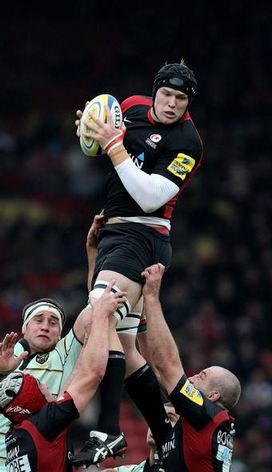 If Hayden Smith proves himself, it will open the flood gates to other rugby players around the world attempting to take a shot at the NFL.
Now we all know how the Jets and Pats like to play the one-up game with each other but Belichick selecting Nate Ebner from OSU in the 6th round had nothing to do with the Jets but more to do with the speed, ferocity and the tackling ability of the player. It had even more to do with former Pats Linebacker and now Ohio State coach Mike Vrable who alerted Bill and the Pats staff to the Buckeyes best special teams player. After Vrabel signed off on Nate, the Pats went to work and evaluated the listed safety as they would any other college player. Having the athletic ability to post a 4.55 forty and a 39 inch vertical jump, the Pats graded him out as a late round pick.
Although Nate never played high school football, he quickly impressed the Ohio State coaches when he walked on in 2009 and eventually earned a scholarship. His rugby resume is short but impressive. Ebner was named MVP of the USA team at the IRB Junior World Championship in 2007 (Under 19) and 2008 (Under 20), and at age 17 was the youngest player ever to play in National 7's. He had considered playing rugby had he not been drafted.
So why waste a draft pick on a potential special teams phenom? Because special teams players are on the field about 20 to 30 percent of all plays, and they can turn around a game with a single hit. Players like Bill Bates of the Cowboys, Curtis Buckley of the Bucs/49ers and pro bowler Kasim Osgood were difference makers in the outcome of just about every game they played.
If Nate Ebner and Hayden Smith make impact for their respective teams this year or next, you will definitely see more ruggers trade the pitch for the turf. I am personally waiting to see what happens for Hayden and even Nate. If they are successful, I will start recruiting rugby players, having camps abroad and investing heavily in training them and coaching them so they can learn the game.
CONTINUE READING ON PAGE 2