July 25, 2012 -
Jack Bechta
Will the new CBA hurt rookies?
Everyone, and I mean just about everyone (Vets, owners, NFLPA) on both sides of the table agreed something had to be done about the escalating rookie contracts, especially for the top ten picks. Those numbers are down dramatically, about 50% from under the last CBA. So now unproven rookies are soft-capped at what they can earn in guaranteed cash, total dollars and their terms are fixed.
The veteran players who negotiated the deal had little sympathy for this group of players and it was probably one of the first components of the new deal that was mutually agreed upon by both sides. But the rookies were affected by other parts of the CBA as well.
Another demand that the veteran players asked for and received was less organized team activities (OTA's), less off-season workouts, less full pad practices, less on-field coach supervised practices and less full pad two-a-day practices during camp. Scoring this was a huge and much needed win for the vets. However, in hindsight, it may have been hurtful to the development of rookies and young players. Check out some of the new rules in the new CBA vs. the old ones:
Offseason Workout Program:
Now limited to 9 total weeks (down from 14 in the previous agreement). OTA's cannot exceed 10 total days (also down from 14 total days in the previous agreement). The offseason workout program is to be conducted in three phases with the first phase consisting of two weeks limited to strength and conditioning only.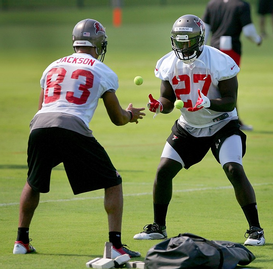 ICONPlayers could use more on field instructional time.
Minicamps:
Only one mandatory minicamp may be held plus an additional voluntary one if the team hired a new head coach in the offseason. The previous CBA allowed for 2 additional voluntary minicamps if the team hired a new head coach. Two-a-day practices in minicamps must now consist of: 3