August 10, 2010 -
Andrew Brandt
A Driving influence for the Packers
The Packers rewarded a long-time favorite of Packer Nation last week with a contract extension for Donald Driver. As someone who previously negotiated four contracts with Donald, it is heartwarming that he got a fifth.
Who is this guy?
Donald and I arrived at the Packers at the same time in 1999 and stayed a couple rooms away from each other in the Midway Motor Inn across from Lambeau Field in our first few months with the team (Ray Rhodes had the room in between us). We bonded right away as new employees in a foreign environment and talked many nights about goals and aspirations.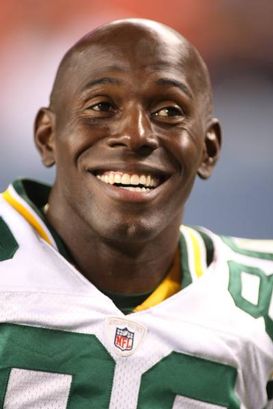 ICONDriver can smile with the best of them.
Donald was the seventh pick in the seventh round, our last draft pick that year, and thin as a zipper. He had a lot of bravado about how good a player he was, as do most players, but this seemed more than that. He knew that we had many receivers on the depth chart ahead of him, even a draft choice in the same class – Dee Miller from Ohio State – but that did not shake his confidence that he was not only going to make the team but succeed. I could not help but root for this kid.
Early career
Donald made the team and filled in where he could, catching 21 balls his second year and 13 his third. As a restricted free agent, he got some interest and took a trip to Kansas City to be recruited by Dick Vermeil before we sweetened our one-year tender with some up-front cash to keep him.
Even at that early point he would look at me and tell me that his name would be mentioned with the all-time Packer greats. I listened and smiled. Who knew?
This guy is good
Donald was as good as self-advertised. In 2002, Donald caught 70 balls for over 1,000 yards – the first of perennial 1,000-yard seasons - making his contract a priority for the team, as he would have been a hot property in free agency that year.
In late November we reached a five-year extension with Donald, one that he cried about in the press conference as this was going to provide some financial security to someone and his family that came from very modest means.
Soon after that time, however, Donald became a bit less excited about his contract. As always happened with players returning from the Pro Bowl, he returned from Hawaii with new ideas on his contract level after hearing from the likes of Chad Johnson about how underpaid he was.
And, of course, there was the wide receiver market in the next year, featuring an oversized contract for Peerless Price and the Falcons that became an irritant, as Donald felt that he would have had that deal had he waited a couple months.
The options
Donald's contract dissent would come up from time to time but we were usually able to talk it through, especially as he watched the negative situation with Javon Walker that led to his trade away from the team.
The way we approached Donald's situation was – in my mind – a compromise in dealing with the now-prevalent issue of players wanting their contracts upgraded to meet and/or exceed the rising marketplace for their position.
With these issues – present with every team in the league (if a team says all players are happy, the team is lying) – there are different ways of responding.
The team can ignore it – evidenced now by the situation in San Diego. The team can rip up the existing contract and replace it with a new deal complete with new guarantees – something that Darrelle Revis steadfastly wants the Jets to do. And now there are a couple short-term solutions out there in light of the rules of the uncapped year such as the one-year band-aid between Chris Johnson with the Titans.
The compromise -- augmentations
With Donald – and other selected veteran Packer players whose performance had exceeded their contract with multiple years remaining – we twice fashioned a compromise solution.
We rewarded Donald with millions of dollars more in "earnable" money for his existing years and added a couple of years at the end of the deal. There was no new bonus or guaranteed money just for signing his name, but there were easily earned incentives primarily in the form of larger workout bonuses and 45-man active roster bonuses. This was not an ideal solution for either the player or the team side, but one of compromise of a tense situation.
These upgrades or "augmentations," as we called them, took Donald up to the end of this season, a length that has now been extended by another two years.
A physical marvel
Donald continues to be a marvel. We had receivers come through the Packers – Walker and Robert Ferguson among them – that looked out of wide receiver central casting: big, strong, tall and fast. And while all those bigger bodies fell victim to injuries and untapped potential, that spindly 7th round pick from Alcorn just kept making plays, taking hits and excelling. I shook my head many times just watching Donald take a beating only to hop back up and line up for another one.
Donald and I had a close relationship and actually did most of the negotiations ourselves, using his agent only to finalize things. In retrospect, I probably should have dealt less directly with him as it brought a difficult business conversation to a personal relationship. But seeing him so often and talking as we did, our conversation would often drift that way.
Kudos to the Packers and Donald for one more deal. He's a Packer if there ever was one, now the longest-tenured player on the roster. That skinny kid from Alcorn that used to come by my room to tell me he'd be great turned out to be just that.
Follow me on Twitter at adbrandt.
Click here to purchase the Total Access Pass/ Fantasy Draft Guide from the NFP.