June 20, 2011 -
Andrew Brandt
A moment in time
We are at a critical time in the negotiations between NFL Owners and Players. There has been progress towards the settlement of Brady v. NFL and a new CBA. However, having negotiated contracts on both sides of the table, until everything is agreed to, nothing is agreed to. This is especially true here with a history of strained communication, mistrust and even dislike. Thus, despite all of the optimistic reports, we are in a fragile state.
Beyond the differences between the two sides, there are reports of internal issues among Owners about the proposed concessions to Players, working against the Owners' objective to change the economics and provide less share of revenue to Players who do not take the financial risk that they do. Those concerns will be addressed in a potentially animated Owners' meeting in Chicago this week. Let's analyze:
The 2006 CBA
The past is instructive here, albeit with different circumstances.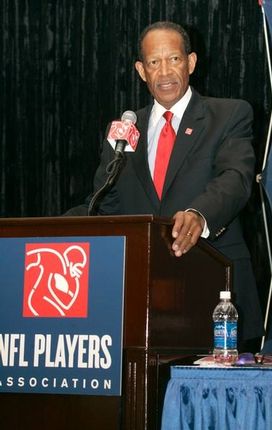 ICONUpshaw's deal in 2006 left NFL Owners remorseful.
NFLPA chief Gene Upshaw's goal then was to enlarge the pot of revenue divvied up between the Owners and Players. Instead of using the previous Cap formula of DGR (Designated Gross Revenues) – ticket and television revenue – Upshaw was successful in changing DGR to TFR (Total Football Revenues), including practically all NFL revenue with limited carve-outs.
During the fateful Dallas meeting in 2006, I was at the Packer offices communicating with our President Bob Harlan, who kept saying the meetings were mostly about internal revenue sharing. Later that night, a new CBA with the Players was passed by a 30-2 margin.
Upshaw had created the perfect storm for the Players. He had stoked fear in the Owners about the potential end of the Salary Cap. He was boarding a plane to Hawaii for a vote with Players and pressed for an answer from his colleague for twenty years, Commissioner Paul Tagliabue, retiring that year. Upshaw also knew that Owners were so concerned with revenue sharing that the Player deal was almost an afterthought.
The two dissenters on that time -- Mike Brown of the Bengals and Ralph Wilson of the Bills -- were voices in the wilderness, yet soon after the ink was dry more owners realized the deal was a bad one. Some of the residue of Owners "feeling taken" by Upshaw in 2006 has been playing out in the present negotiation.
The 2006 aftermath
From 2005 to 2006 – the first year of the new CBA -- the Cap rose an unprecedented 19.3%, from $85.5 million to $102 million! Player costs had reached new heights, and I spent more time on addressing pre-2006 contract players who were seeing the market pass them by as I did on new contracts.
The Owners had a couple of different opt-out dates from the 2006 CBA, the first deadline being November of 2008. They didn't even wait that long. In May of 2008 the Owners unanimously opted-out, shortening a CBA scheduled to run through 2013 by two years (it expired on March 11th this year).
Are there owners frustrated with the deal they made? Absolutely. Do some owners blame Tagliabue for a Player-friendly deal? Yes. Are there owners now realizing that Brown and Wilson were correct to vote against the deal? Yes, although few will admit now siding with those two.
What do Owners want?
The Owners have had a tough sell in this labor dispute, both to the Players and to the public. They cannot – like NBA owners – claim losses. They cannot claim they should make more money; that doesn't play well on Main Street. Thus, they speak in terms of "shared sacrifice," and "sustainable models," code words for the Players receiving less of a share than they presently receive.
The Owners message is a changed environment since 2006: lack of public financing of stadiums, massive debt, player costs outpacing revenues, etc. Players respond by asking for more complete financials, a key negotiation issue for the next CBA.
In simplistic business terms, Owners want better ROI (return on investment). They have assets with, say, $300 million in annual revenues and $10-15 million in profit. They are aware of other business with similar numbers with multiples of that profit number.
The difference is that they did not become NFL owners for ROI alone; they did so for the appreciating asset value and personal reward along with the financial benefits of NFL ownership.
In sum, Owners see a pattern of declining profitability since 2005 and – through the opt-out – have a chance to correct it. Of course, it takes two sides to reach a deal.
Goodell's moment in time
While Commissioner Goodell and the negotiating team has discussed concessions with Players, there are some owners doing what Brown and Wilson tried to do five years ago – and are doing now – before the room is swept up in the emotion of making a deal. They are saying the commitment to change the system is not reflected in what is being discussed with Players.
The potential division within the room creates an opportunity for Commissioner Goodell to step up. Goodell has been roasted throughout this process by players and wisely has not engaged those insults, letting them fall off his back and staying true to course. Now he must work the room at these meetings to build consensus. His mission is to transfer the "shared sacrifice" message from discussions with the Plaeyrs to his Owners: to sacrifice their own self-interest for the greater good.
Football fans everywhere are counting on him working to room...
Follow me on Twitter at adbrandt.