August 17, 2011 -
Barry Dorey
A Titanic negotiation
There are over 2800 NFL players presently under contract and in training camps – a number that will be reduced by roughly 900 within a couple of weeks. Then there is one player who is under contract but not in training camp: Chris Johnson of the Tennessee Titans.
Johnson's holdout is about what every holdout is about – money – and trying to leverage a new and improved contract. Interestingly, I have heard much support for Johnson in his decision to not honor his contract. Many say to me "Normally I side with management, but this is different."
Background
Johnson is not one of these stories of a player making very little money due to being drafted late. He was the 24th pick in the first round in 2008, signing a five-year, $12 million contract with $7 million guaranteed.
Although the new ten-year CBA has curbed the excesses at the top, it does nothing to address the real problem with rookie contracts: players in their third and fourth years (Johnson, DeSean Jackson, Matt Forte, etc.) are saddled with salaries nowhere near reflective of their actual value and with little upside.
Johnson sits with two years remaining on his contract at salaries of $800,000 and $2 million. Last year, knowing this problem was brewing but unable to reward Johnson with a top of market contract due to the 30% rule – explained here – the Titans bumped Johnson up by $1.5 million. That temporary band-aid has fallen off, with the Titans probably thinking, "no good deed goes unpunished."
Cat and Mouse
There's a cat and mouse game going on with the Titans and Johnson. The Titans want to only continue negotiations when he reports. Johnson says that he is staying out without the security of a new deal. And so it goes.
Many have asked about the pesky matters of (1) Johnson missing the deadline (August 9th) to earn a season towards free agency; and (2) $30,000 daily fines for missing camp. Pay no attention to either: at some point Johnson will have a new deal and both issues will be moot.
The Comparables Conundrum
In a "normal" negotiation, each side tries to find comparable players and contracts for the position. In this case, as the Titans suggest, that would mean top of market running back contracts. The Titans also want "credit" for negotiating a deal that has two years remaining on it.
Johnson and agent Joel Segal are resisting. They want to move this negotiation away from a discussion of top running back contracts to top overall player contracts. They also are reluctant to give "credit" to a rookie deal that has Johnson playing under his market value. This frustrates the Titans – as it would me if I were them – as a "normal" negotiation addresses relevant data for the position as a primary guide.
Running Back Flat Market
In researching top running back deals, the high end of the market has truly stagnated and lags behind other positions. This is why the Johnson negotiation is so difficult and potentially game changing.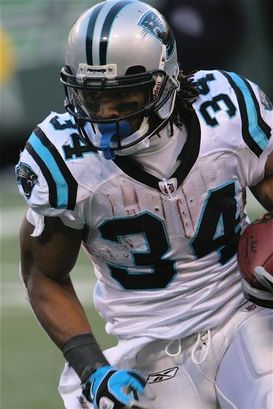 ICONWilliams set the new (old) market for running backs.
In one sense, it is easy to identify the market. DeAngelo Williams – the top free agent running back in 2011 – re-signed with the Panthers for a five-year $45 million contract with $21 million guaranteed. To the Titans, that is as fresh a contract as can be and it sets a data point. It's also similar to the most recent standard: Steven Jackson of the Rams, who signed for a similar $45 million with $20 million guaranteed in 2008.
Unlike other positions, the running back market has languished. It is virtually the same as it was in 2004 for LaDanian Tomlinson –$60 million, $21 million guaranteed – and Clinton Portis – $50 million, $17 million guaranteed.
Johnson States his Case
Johnson and Segal are arguing that when a truly special player comes along the market advances exponentially rather than simply jumping off the most recent deal. They point to the dramatic jump made at the guard position when Steve Hutchinson signed with the Vikings in 2006; the dramatic jump made at defensive end when Julius Peppers signed with the Bears in 2010; and the dramatic jump about to happen at wide receiver when Larry Fitzgerald signs either back with the Cardinals or as a free agent.
Johnson and Segal also point to other positions receiving more money. Fitzgerald's existing deal is for four years and $40 million with 75% of it, $30 million, guaranteed. And a guard, Logan Mankins, just received a $20 million signing bonus and will have close to $30 million guaranteed!
We can debate the value of running backs compared to receivers and guards, but Johnson's point is that he is a player of a higher value than what has been placed on his position thus far.
AP
The other factor in the negotiation is Adrian Peterson, playing in his last year of his rookie contract with the Vikings. At some point he will negotiate a new deal that will also change the market. The question becomes whether his deal will be based off Johnson's or vice versa.
The difference between Peterson and Johnson is the jumping off point. While Johnson has two years left and low salaries, Peterson has one year left at $10.7 million. Thus, even if the two received the same contract, Johnson will be making more "new money" – money that the player would receive prior to the new deal.
Thus, the standoff continues: the Titans agreeing to reward Johnson at a rate compared to his position; Johnson wanting a game-changing deal irrespective of the position that he players.
What Will Happen
My best guesstimate on Johnson: he has a new contract a week before the season opener – that is enough time for him to be ready – that zooms past the rate for top running backs ($9 million average per year, $21 million guaranteed) yet does not reach the $12-$13 million average per year and $35 million guarantee that he is seeking. I would look for a five-year deal with 25-30% increases off of the top of the running back market: thus, a total value of $56-58 million and guarantees in the $26-28 million range.
Stay tuned and look for this running back's labor to be rewarded around Labor Day.
Follow me on Twitter at adbrandt.