November 09, 2010 -
Andrew Brandt
Andrew's answers: Tuesday's mailbag
In this week's mailbag, many questions concerned an embattled coach – no, not the one put out of his misery in Dallas; the one still coaching in Minnesota – and his release of a certain receiver that is now in Nashville.
Did Brad Childress really have the exclusive power to release Randy Moss?
Yes, although the reported lack of communication about an important and expensive roster move such as this is startling.
The Vikings hired Childress in January 2006 before he was scheduled to fly to Green Bay to interview there. Agent Bob LaMonte leveraged the Packers scheduled interview into a five-year, $10 million deal – since extended last season at almost double that rate -- that included control over the team's roster.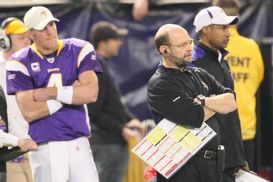 ICONChildress released Favre-favorite Moss.
Would Childress really release Moss without telling his owner or front office?
The answer may have future significance. The issue for Childress appears not to be whether he abused such power but an issue of communication with his peers and superiors. In releasing an iconic player such as Moss, all parties – ownership, personnel, contract management, public relations, marketing, etc. – needed to be involved, because Moss:
Was a lightning rod of attention, good and bad, to fans and media;
Was acquired recently for a third-round pick – valuable currency in today's NFL;
Was due the balance of his $6.4 million salary, $3.4 million, if unclaimed;
Was wanted by Brett Favre, for whom the team staked its season; and
Was a friend to future star Percy Harvin (part of the problem for Childress).
With all of this in play, the decision to terminate Moss called for open and honest communication about the reasons for shedding him and the ramifications of doing so.
It's no secret that Moss has no filter with his comments and can be boorish. His behavior – with the caterer, with teammates, etc. – was not unexpected.
What about the financial ramifications of the release, would Childress have power to do that?
If Childress released Moss without communication or consent, he subjected ownership to $3.4 million of potential termination pay. It is possible that Childress cut Moss not knowing that rule and not consulting those who did. That would be negligent behavior for the coach of a low-revenue team with an outdated facility in an uncertain labor environment.
This would explain owner Zygi Wolf delaying the decision to release Moss, reportedly weighing a choice of Moss or Childress, as the two could not co-exist. In the end, he supported his coach, although Childress may have limited shelf life in Minnesota.
Will Childress survive this?
Actually, when I listen to Childress at press conferences and interviews, I find him to be bright, articulate and a clear communicator (although a poor comedian). However, this may hide a problem of communication in his own building.
The next contract at issue may be the one of Childress, which requires payment to Childress if terminated "without cause" yet protects the Vikings if "for cause". There may end up being a few lawyers determining whether the actions of Childress during the release of Moss rise to the level of "cause" for termination. Stay tuned.
You know Al Harris well. Do you think he has good years left after being released by the Packers and are you surprised?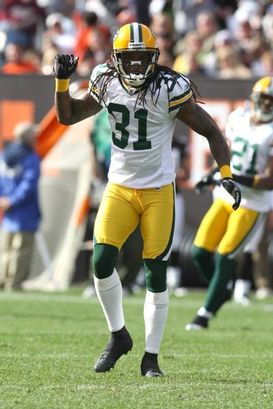 ICONHarris played seven strong seasons in Green Bay.
I am not surprised. The Packers rave about Harris's replacement Tramon Williams and are actively looking to extend his contract. With other young cornerbacks skilled at special teams, Al became a luxury.
Even injured, Al was an admired presence by players, coaches and administrators alike. And Al would do anything for a friend. When I was being considered for the Packers' CEO position in 2007, Al offered a video testimonial about me with a couple other players to submit to the search committee. That's the kind of guy he is.
I negotiated several contracts for Al – all with my NFP colleague Jack Bechta – and never found him to be unreasonable in his requests.
Although 35, after many years as a backup in Tampa and Philadelphia prior to the Packers, Al has some football left in him.
What do you think of Troy Polamalu saying that Commissioner Goodell has too much power?
When many defensive players railed against the new initiative for increased fines and suspensions, the NFL expected it. Polamalu took it a step further, challenging Commissioner power in comments to the Pittsburgh Post-Gazette. And now NFLPA Executive Director DeMaurice Smith is saying the union will challenge fines or suspensions that are "unfair and disproportionate."
The discipline issue - as every other issue now --must be viewed in the context of the larger CBA negotiation. To review, team discipline is appealable to an independent arbitrator; league discipline – including fines and suspension for these hits – is only appealable to Commissioner Goodell, who has assigned Art Shell and Ted Cottrell to hear appeals.
The NFLPA is attempting to have independent arbitrators for both team and league discipline. And the NFL may well agree in order to make gains in other parts of the negotiation.
Follow me on Twitter at adbrandt.