October 05, 2010 -
Andrew Brandt
Andrew's answers: Tuesday's mailbag
Dipping into the mailbag to answer a couple of interesting questions from the week:
We read so much about players getting fined by the NFL and by their teams. Now a coach (Chuck Cecil of the Titans) has been fined $40,000 by the league for his middle finger salute. We never hear where that money goes. Can you enlighten us?
The answer depends on whether the fines are league fines or team fines but, in both cases, there is great discretion and guarded information about what causes the fine money is designated towards.
The NFL and its teams do not want to disclose the names of the selected charities for a few reasons, one being that they do not want to show preference for certain causes over others. The NFL in the past has allocated much of their fine money to cancer research and organizations named after Brian Piccolo and Vince Lombardi. In recent times, with the emphasis on player safety and head injuries, there appears to be an allocation of fine money towards research and development of advanced on-field equipment and helmets.
The letter sent to the offending players offers some information, which reads in part: "Player fines collected by the league are used to support the NFLPA Players Assistance Trust and charitable initiatives supporting youth, education and sports-related medical research." The NFLPA Players Assistance Trust Fund assists players with catastrophic financial and health-related issues.
As to team fines, was part of some of the decision-making about allocation, which is mostly to local charities. One thing I advised against was allowing an offending player to direct his fine money toward his own charity or foundation; I found that to slightly weaken the deterrent effect of fines.
The amount of fine money collected per year, in my experience in Green Bay, ranged from just under $100,000 to over $200,000 – mostly culled from fines for being late or missing meetings, practices, training or rehab appointments. These amounts would escalate with the use of the catch-all "conduct detrimental" discipline, used for anything from insubordination to coaches to a couple of star players leaving a preseason game at halftime (they were caught on security camera). A couple charities were well-served by those players.
The highest fine amount we collected in Green Bay was in 2004 thanks to the holdout of cornerback Mike McKenzie. Prior to dealing McKenzie to the Saints, we held the trade through a game weekend so that we, not the Saints, would incur the salary liability for that game and then used that money to collect the fine. His paycheck was then virtually zeroed out to garnish what was due for his holdout.
The amount of over $150,000 that we collected from McKenzie went to various charitable causes and other uses. Our players soon noticed newer televisions, video games and nicer furniture in their player lounge and took to calling the room the "Mike McKenzie lounge", sensing its upgrades were an unintended gift from the departed corner.
You have mentioned a few times that you're a Stanford alum. What do you think of their success and how was it dealing with Cal bear Aaron Rodgers?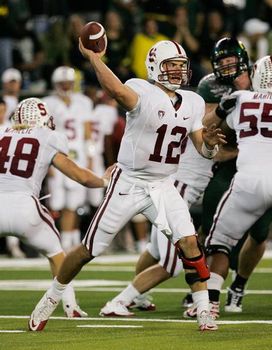 ICONLuck and Stanford have high standards on and off field.
The Cardinal's success – despite the loss to Oregon Saturday – is a positive for all of college sports. I was there during the John Elway years yet never had the level success happening now. I have also known Oliver Luck, Sr. for a long time – he was general manager of the Frankfurt Galaxy while I had the same position with the Barcelona Dragons' in the NFL's World League – and seeing his son's success at my alma mater is heartening.
Moreover, Stanford's success in football is important to me whether an alumnus or not, for this reason: rigorous academic standards need not be an excuse to fielding winning college football teams. My hope is that Stanford's success in football provides an example that other schools can follow that rigorous academics and winning football need not be mutually exclusive.
As to Aaron, we would wager every year about the Big Game, with the loser having to wear the other team's gear on the subsequent team road trip. In 2007, after Stanford beat Cal in the Big Game, 20-13, Aaron looked dashing in his Cardinal red under his suit on our team trip to St. Louis the next week.
You seem pretty confident that the 18-game season will happen despite a lot of resistance from the players and the NFLPA. Why are you so confident it will happen?
Follow the money. Ultimately the players will decide to play 18 games starting in 2012 rather than play no games in 2011, and the owners will make it worth their while.
Follow me on Twitter at adbrandt.
Want to work in the NFL? Click here to register for the NFP's "Chalk Talk" seminar in Chicago on October 22nd.