September 21, 2010 -
Andrew Brandt
Asked and answered: Tuesday's mailbag
With questions piling up from readers, I thought I'd answer a few of the most popular ones sent in a new feature, Asked and Answered (or should we call it Andrew's Answers?).
Your inside stories from the Packers are, for us Packer fans, treasures to behold, but somehow you manage to not take a side in the Brett Favre-Packers breakup. Are you just being diplomatic or do you have a side?
I suppose it's a good thing that an almost equal number of readers think I favor one side or another in what Packers CEO Mark Murphy termed the "divorce." Like the lawyer that I am, I see both sides.
I admired Brett for his amazing durability and availability – that is so important to any football team – and for the personal impact he had on so many people in Wisconsin. When I watched encounters with Brett, I would focus on the other person, who would invariably walk away smiling. I also admired Brett's special warmth with the "back room guys": the trainers, equipment men, maintenance guys and security staff. I am told the same is true in Minnesota.
Brett retired in 2008 not because he wanted to but because he wanted some sign of courtship from the front office that he received in previous years rather than the vanilla response of "It's up to you." Faced with silent indifference, he retired, not really wanting to retire.
I left the Packers right before Brett did, but I will say this: I agreed with the decision to move on to Aaron Rodgers, for one reason: Aaron Rodgers. I developed a close relationship with Aaron -- despite our Cal v. Stanford sniping -- and was a fan from the start. We had seen Aaron for three years; his arm strength and mobility, his natural leadership ability and how players responded to him, and his off-the-charts intelligence and confidence. Once Brett retired, the plan was in place.
I did think, though, the organization owed Brett more; not from a professional standpoint in this cold world of the business of sports, but from a personal standpoint. Brett had played and led the team to personal tragedies of losing his father, played while supporting his wife through breast cancer and more. He had brought national and international attention to a slice of Northeastern Wisconsin known for its football team.
Someday there will be a ceremony at Lambeau where everyone will smile and laugh and honor Brett. That day, however, is no time soon.
Having seen women reporters in locker rooms and in light of the Jets' incident, what is your opinion on the situation with Ines Sainz?
I have seen and heard some insightful comments about this, especially from professional and respected female sportswriters such as Judy Battista of the New York Times and Ashley Fox of the Philadelphia Inquirer. I had a couple thoughts.
When I first saw women in the locker room with naked men walking around, it was unsettling. After a while, however, like the reporters and the players, I was desensitized to it. I understood it was their job and never saw any kind of unprofessional or inappropriate actions. I commend reporters I watched operate so professionally such as Lori Nickel of the Milwaukee Journal Sentinel.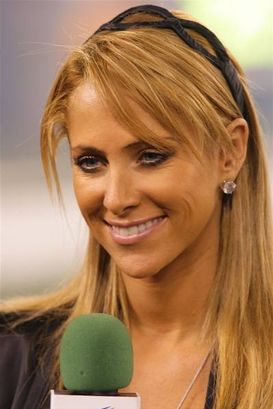 ICONSainz was the center of the controversy.
Players have long done double takes and tricked their way in front of attractive women at practices. I watched women in short skirts escorted out of Packers' practice a few times due to the players' attention being diverted. And I overheard comments on the sidelines about whatever female sideline reporter was covering the games (Pam Oliver of Fox used to draw quite a reaction).
In a former life, I also represented women basketball players, including 3 of the top 5 picks -- Ticha Penicheiro, Allison Feaster and Muriel Page – in the 1998 WNBA Draft. I remember asking about male reporters in their locker room and they shrugged and said it was no big deal. The vast majority of athletes – male and female – adjust to it and move on.
Since you were with the Packers all those years you must have known Lions president Tom Lewand well. Are you surprised about his DUI and suspension from the league?
I have known Tom a long time and was shocked to hear the news of his arrest this summer and his self-description as a "person in active recovery" from a drinking problem. Tom always displayed professionalism and carried himself with great confidence. I had no clue of his problem with alcohol, nor did anyone else in the league that I spoke with.
Lewand had been a favorite of many in the league office for a while, appointed to prestigious committees and the team liaison to the Ford family. Many executives, coaches and players were watching as to the discipline and in what form for Lewand (30 days, later reduced to 21, and a $100,000 fine).
It's good to see Tom back.
And this may be the question I receive most: What advice do you have for students or those seeking career changes on getting into the business of sports and football?
I wish there was a formula here that I could give out and present a clean path for so many that ask about this. Unfortunately, there is not. However, there are things to do help.
The key is to have a marketable skill. Focus on how you can help an organization and skills that differentiate you from other candidates. Everyone loves football; that's a given. Drill down into filling a void for an employer.
And, as it just so happens, we at NFP will be hosting our second seminar on the inner workings of the game from all angles. We have just announced the date and place: October 22nd in Chicago, with venue to be determined. It's a "must" event for anyone interested in getting into the business.
Follow me on Twitter at adbrandt.
Click here to win cash today playing Fantasy Football with the NFP and FanDuel.