September 28, 2010 -
Andrew Brandt
Asked and answered: Tuesday's mailbag
Appreciating the reader response to this feature last week, here are a few answers to some of the more popular questions received this week:
You were consulting with the Eagles when they signed Michael Vick. What was his reception like among the players?
Vick was extremely well received when he arrived last August. In stark contrast to the picketing and vitriol outside the gates of the NovaCare facility, there was a palpable energy and buzz that swept through the building.
Players were excited about the addition, with visions of the Vick from the past (and present?) Beyond that, Vick was also a compassionate figure to some.
Both on the Eagles and around the league, I heard about a divided reaction to Vick based on race. Specifically, there was a feeling among black players that if a high-profile white player had done the same things that Vick did, they would not have been treated with the same hatred and would not have been sentenced to 23 months in federal prison. Whether that is true or not, that perception was out there, making Vick an empathetic figure in some player circles despite his despicable acts.
Vick is a likable guy, which has endeared him to teammates like Kevin Kolb. My sense is that Kolb's support for Vick is genuine, certainly not always the case in situations like these.

Did last night's game bring back some Packers-Bears memories for you?
Our trips to Chicago were always interesting, and the games were often at night. That would mean that our team doctor Pat McKenzie and I would take some long runs along Lake Michigan to pass the time on those long game days.
Unlike last night, it seemed liked we played there always late in the year, with some of those games having little meaning in the standings. I remember the New Year's Eve game in 2006, a game moved to Sunday night as the Brett Favre retirement rumors were in full throat. Brett cried during his post-game interview and took pictures with his linemen, although I never believed he was retiring. After that game, we boarded the buses for Midway airport and rang in the New Year in the security line.
And I remember December 23, 2007 in truly brutal conditions, with biting temperatures and a ferocious wind off the lake. We had clinched our playoff spot and no one wanted to be out there that day. The Bears won, 35-7, with Kyle Orton looking like Superman.
I would always count the minutes into the game before the television threw up the graphic of the number of quarterbacks for the two teams since 1994, with the Packers now at 2 compared to the Bears 22. That one is a staple for every television announcing crew
Packers-Bears has been, is and will always be special.
Will this soap opera between the Redskins and Albert Haynesworth ever end?
Probably not. Haynesworth – in the news again for his "slave" comment -- has become the poster child for the overpaid and under motivated athlete taking a team's money and lying down. He has become a whipping boy for the fans and media to take out their pent-up frustration about today's spoiled athletes on.
The Redskins tried desperately and unsuccessfully to unload that $21 million bonus due in April on another team. Now, having shelled out more than $32 million of the $41 million guaranteed in his contract, they are stuck with him. And if they can't take his money, they appear to want to take his will.
This is not to say Haynesworth is not at fault here. However, his incumbent Titans certainly knew of his lack of motivation, as they would not commit to him beyond the Franchise tag in 2008. This is not a surprise to anyone.
Here's hoping the Redskins can extract some value from their $41 million investment. Meanwhile, Haynesworth remains Exhibit A in the case against NFL teams overspending in free agency.
Speaking of the Redskins, were you surprised they released Larry Johnson two weeks into the season?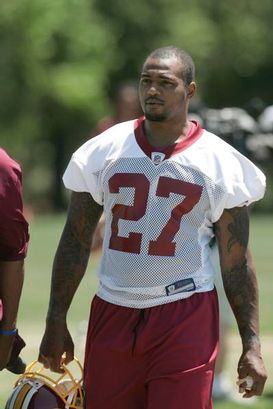 ICONJohnson can collect his entire 2010 salary from the Redskins.
Just as I praised the Redskins for their sound Cap management in this uncapped year, Johnson's three-year contract worth now fades to dust after two weeks.
As a vested veteran, Johnson would in theory be entitled to the remaining balance of his 2010 salary if he were to file for termination pay at the end of the season, regardless of whether he signs with another team. However, a league source has informed me that Johnson claimed $2.1 million of termination pay from the Chiefs in 2009, thereby releasing the Redskins from any termination pay liability. I apologize for an earlier version of this answer that said the Redskins would have termination pay liability to Johnson. A player may only claim termination pay once in his career, and Johnson sought his from the Chiefs.
The evidence against investing in running backs past their mid-twenties is compelling, with a contract graveyard consisting of second and third deals for players like Johnson (Chiefs), Jamal Anderson, Eddie George, Corey Dillon, Ahman Green, Shaun Alexander, and Derrick Ward, with Willis McGahee and Brandon Jacobs likely to join them after the season.
It's been a while since the "What they Say, What they Mean" feature up on your page. Could you give us a brief sample to those of us who miss it?
Sure. Here's one that applies to players, coaches, general managers or owners:
"I don't know or care what is said about me; I don't read the newspapers or listen to television or radio."
Translation: I read every word about me and listen to everything anyone says about me.
Follow me on Twitter at adbrandt.
Want to work in the NFL? Click here to register for the NFP's "Chalk Talk" seminar in Chicago on October 22nd.