July 25, 2011 -
Barry Dorey
At last, a deal to end the NFL lockout
With labor peace now in place, the months of turmoil and labor pains between NFL Owners and Players have unofficially ended. Although I keep receiving the question: "which side won?" it's important to note that each party has achieved substantial gains. Here's an overview of what each side received.
Owners
Revenue Split
Desiring to overhaul the previous economic system (a 50/50 split, which led Owners to opt-out in 2006), Owners will now receive 52% of all revenues ("AR"). Owners will also have true-up provisions to capture a higher percentage in the event the League meets certain revenue targets in the future. The final deal will line the Owners' pockets with approximately $200 million in additional monies, with the savings growing exponentially in the future.
The split will be calculated out of different buckets of money – national media, NFL sponsors/ventures money, and local revenue. The key is that Players share in all of these sources, with the overall share calculated in the 47-48% share for Players.
Furthermore, Owners are incentivized to spend on actual stadium investment, and will receive a credit of up to 1.5% of revenue each year if they choose to do so.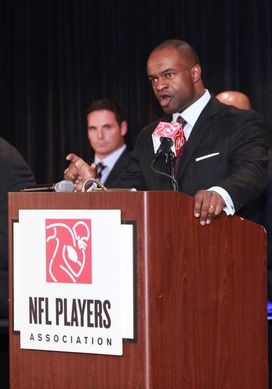 ICONDe Smith and the owners have a deal in place that will bring NFL football back.
No Minnesota Judicial Oversight
Since 1993, the CBA between NFL Owners and Players has been overseen by the federal district court in Minnesota.
It appears that the Owners have finally shed themselves of Judge David Doty, who has represented a pebble in their shoe by making numerous adverse rulings throughout the past two decades.
Disputes involving AR, Salary Cap, and free agency issues will now be resolved by a mutually agreed-upon arbitrator, with appeals headed to a 3-member panel that includes at least one former judge.
Forfeiture Provisions
The inability to recover bonuses from players exhibiting bad behavior – e.g., Michael Vick, Ashley Lelie, Plaxico Burress – agitated Owners immensely. The new deal will include language detailing "forfeitable breaches" of bonus money, which occur from: (1) holdouts; (2) unavailability due to arrest; (3) non-football injury; and (4) voluntarily retirement.
Players
Cash Minimums ("Guaranteed Spend")
The Players have successfully forced teams to commit to cash spending, perhaps their most significant achievement. In 2011 and 2012, there is league-wide commitment to cash spending of 99% of the Cap. In 2013-16 and 2017-20, this number drops to 95%. Also during these years, each team must commit to cash spending of 89% of the Salary Cap.
While in the past there were Cap minimums, there were never cash minimums, which now require teams to collectively spend cold-hard cash to the Cap level. This mechanism will demand for teams to spend cash on players. Teams will now be obligated to spend much more than the cap minimums of years past.
Minimum Salaries
This is a big deal because nearly half of the players in the League play under a minimum contract.
First-year minimum salary will go from $320,000 to $375,000; second year minimum salary will rise from $395,000 to $450,000. All minimum salary levels have gone up $55,000 from 2010 levels. The minimums will rise $15,000 per year from there. The raised minimums alone will give rookies better deals than they have had in recent years, except of course for the top picks.
Reduced Contact
With concussions and severe injuries at the forefront of public consciousness, Players have demanded less hitting and reduced offseason work. It appears they have been granted their wish.
Not only will offseason workout programs, OTAs and time at the facility be curtailed compared to the past, but training camp will feature less padded practices and contact. Further, there are significant restrictions on the number of padded practices allowed during the regular season (14 total) and postseason practices (1/week).
Injury Guarantees
After sustaining a career-ending injury, players are now guaranteed up to $1 million in their second year and $500,00 in their third year. Under the previous CBA, players were entitled to much less.
Health Benefits
All players – present and future – who play in an NFL game during the span of this CBA will be qualified to remain in the NFL medical plan for the rest of their life. Under prior agreements, post-career healthcare for retired players ended after five years.
Current (and Future) Retirees
Current retirees were sometimes lost in the shuffle of this labor hoopla; media attention regarding the labor dispute mostly concerned current NFL Owners and Players. George Martin and Carl Eller both voiced their displeasure with being left out of the process.
However, in the end, retired NFL players made substantial gains. An additional $1 billion will be committed to retirees over the length of the agreement. Both Owners and Players will contribute to the new $620 million "Legacy Fund" which is dedicated to assist pre-1993 retirees. Much of the money is coming from savings from the top rookie contracts.
Despite everyone wanting to pick a winner, I'd rather pick the "wins" by each side. Like every deal, both sides will be happy with some issues and unhappy with the others. This was a negotiation: no more, no less.
Much more to come. Like evaluating a rookie, this deal will take years to analyze.
Follow me on Twitter: @adbrandt