November 17, 2011 -
Andrew Brandt
Back Pain
Playing running back in the NFL is not the most glamorous of lifestyles. They have the shortest shelf life of all NFL players and their prime playing years are usually either playing for free in college or under low rookie contract earnings. And, of course -- they encounter a train wreck on every play.
The other big problem for running backs is pay. As Chris Johnson did in September, they have to get the most they can as soon as they can in their careers. Having been in an NFL front office for ten years, I understand their plight but understand it from the teams point of view. When I was with the the Packers, as much as I liked our running back Ahman Green as a friend, I could not advocate allocating sizable resources to him for a third contract. I had studied running back contracts for players with similar age and wear and tear and found a graveyard of bad deals (Eddie George, Corey Dillon, Jamaal Anderson, etc.). Indeed, virtually the only players that I saw performing at a high level past their later twenties were Emmitt Smith and Curtis Martin. Thus, the dilemma with running backs.
The Underpaid
Here are your gold, silver, and bronze NFL rushing leaders through the first 10 weeks of the season and their salaries: Fred Jackson (917 yards, $1.75 million), LeSean McCoy (906 yards,$490,000), and Matt Forte (869 yards, $600,000) are earning just a combined $2.84 million in base salary this season.
It is clear that they have outperformed their existing deals but questions remain whether they will secure new contracts and if so, when will that be. Let's examine: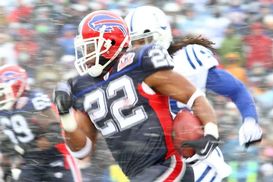 ICONJackson faces the problem of age.
Action Jackson
Jackson, who has played a significant part in the Bills' offense, has reportedly received an "assurance" from the Bills front office that they will restructure his current contract, a four-year $7.5 million deal signed in 2009.
The mitigating circumstance with Jackson is his age. Jackson is 30, the point of no return for most running backs. And despite the fact he is only in his fifth season, he has three seasons of wear and tear from indoor and European football leagues prior to the NFL. The Bills are trying to structure a deal that protects them from a dropoff in performance in a couple of years.
Shifty Shady
A bright spot on a disappointing season, McCoy has broken out this season and leads all non-quarterbacks in touchdowns (12). His lateral agility is reminiscent of Barry Sanders and his value is soaring.
McCoy still has another year remaining on his rookie deal – one that I negotiated while consulting for the Eagles in 2009 – at a reasonable figure of $600,000. With the Eagles' profligate 2011 free agent splurge, McCoy may need to wait until next season to secure a contract extension.
It will also be interesting to see whether the Eagles use the franchise tag on DeSean Jackson in 2012 and as a negotiating tool with McCoy for 2013, as both are represented by Drew Rosenhaus. McCoy's recent firing and re-hiring of Rosenhaus may have been related to this potential conflict of interest.
Not the Bears' Forte
Forte's frustration in securing a new contract have been discussed here. Despite his disgruntlement, Forte has not allowed his contract dispute to become an on-field issue. At least not yet.
Forte's heavy workload could ultimately work to his disadvantage. With the 2012 franchise tag in play here, this negotiation will reach a crescendo as Forte's play continues to shine later in the season.
CJ Precedent
While Johnson's new deal (along with Adrian Peterson's) set a new market for elite running backs, his lack of top-level production is not helping his peers. At the least, it gives hesitant front offices a data point to argue against rewarding running backs at that level.
And speaking of unfulfilled expectations…
The curious case of Peyton Hillis
In 2010 Hillis bruised his way to over 1600 total yards and 13 touchdowns, besting Michael Vick to become the new Madden cover player.
Fast forward to 2011, a nightmarish season for Hillis, full of injuries (he'll miss his fifth game in a row Sunday), illness (strep throat) and issues in his own locker room. While the Browns engaged in some negotiations earlier this year, contract talks have come to a screeching halt. Browns president Mike Holmgren recently emphasized, "Let's let Peyton play, let the dust settle and see what happens." Translation: we're not giving him a new deal anytime soon.
The Madden curse continues.
These backs discussed above are running to daylight; whether they're running to greener pastures remains to be seen.
Follow me on Twitter at adbrandt.