January 19, 2012 -
Andrew Brandt
Backs in Action
Watching last Sunday's playoff game between the Texans and Ravens, I was drawn to the fact that both teams rely heavily on superb workhorse running backs playing in the final year of their contracts. Arian Foster and Ray Rice are free agents in six weeks and (although unlikely) could find themselves in different uniforms next year. Let's examine: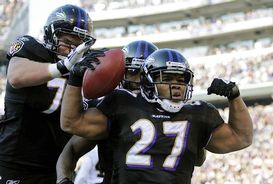 Rice has quietly been one of the league's top backs.
Talk is cheap
2011 was a tough year for NFL running backs. Although Adrian Peterson and Chris Johnson inked contracts that set a new standard for the position, guaranteeing each over $30 million, Peterson suffered a gruesome knee injury and Johnson had a down year by his own standards. These case studies do not help, and may even hurt the prospect of clubs allocating big money to the running back position, the position with the shortest career longevity in the NFL.
And, while there a few running backs that voiced low rumbles of discontent with their individual contract situations – Matt Forte, Fred Jackson, and Peyton Hillis – Foster and Rice remained professional and silent despite making league minimum salary, letting their play speak for itself.
Numbers never lie
Here's what Rice and Foster did this season (with NFL rank in parenthesis):
Rice Foster
Touchdowns 15 (4th) 12 (8th)
Rushing yards 1364 (2nd) 1224 (5th)
Receiving yards (RBs) 704 (2nd) 617 (3rd)
Yards from scrimmage 2068 (1st) 1841 (3rd)
% of Total Offense 48% 31%
2011 Salary $600,000 $525,000
These are not limited sample sizes, either. Rice posted gaudy numbers in 2009 and 2010 while Foster likewise took the NFL by storm last season.
The marketplace
After a stagnant several years, Peterson and Johnson moved the running back market. Over the first three years – the true marker for any deal – Johnson will earn a $10.3 million APY (average per year) and Peterson a $13.3 million APY. DeAngelo Williams, also signed in 2011, secured a five-year $43 million contract ($8.6 million APY) that included $21 million guaranteed.
Expect the agents for Foster and Rice to utilize Williams' deal as a baseline for guaranteed money with the hope of securing an APY between Williams and Johnson.
Organizational retention
Foster and Rice will quietly seek long-term deals in the offseason. In the event that they cannot agree to terms, both the Texans and Ravens can resort to other means to retain these players' services.
Foster is a Restricted Free Agent (RFA). Thus, the Texans can tender a qualifying offer, giving them the ability to match any offer sheet he would receive from another team. There are a number of different tenders (original draft round, second round, first round) that teams may extend to players. The first and third round tender – which was the highest tender in the previous Collective Bargaining Agreement -- no longer exists in the new CBA.
The amount for the current highest tender – first round tender – was $2.611 in 2011 and will rise between 5-10% tied to increased revenues for 2012. Nevertheless, this strategy does involve some risk: a team in need of a dynamic running back could potentially steal Foster by making him an offer so substantial that leaves the Texans unable to meet it. While they would receive draft compensation of a first round pick they would be without their star running back and focal point of their offense.
A more expensive (but more secure) avenue – available to both the Texans and Ravens – is to apply the Franchise Tag (Tag) to Foster and Rice. As explained here, the Tag number for running backs for 2012 will actually be reduced from $9.5 million in 2011 to approximately $7.7 million in 2012. The Tag will definitely be in play in negotiations for Foster and Rice.
Year of the running back
With continuing issues concerning Foster, Rice, Forte, Jackson, and Hillis, the 2012 offseason will have its share of running back issues. Having been on both sides of the issue, I empathize with both sides.
I understand the players' desire to receive their money as soon as possible due to the wear and tear inherent with the position. These players, more than any others in football, find it very hard to be paid value commensurate with their production. As I noted earlier about Forte, a valid question to ask was whether his production and heavy workload was helping him towards a long-term contract or hurting him?
For the exact same reasons that running backs want their money as soon as possible, teams are reluctant to do so. There is a graveyard of bad second and third contracts for running backs who have played past their prime, an age that seems to come earlier every year. Teams want to go year-to-year with this position if they can, unwilling to commit large guarantees and contracts difficult to "get out of" to a position where production that, when it drops, it drops significantly.
Foster and Rice are terrific players. There will be many cries to "Pay the man!" as there was for Johnson this past summer. If only it were that easy.
Follow me on Twitter at adbrandt.