July 27, 2010 -
Andrew Brandt
Brady, Manning and their expiring contracts
The winter freeze on player spending is thawing a bit with recent top-of-market extensions for D'Brickashaw Ferguson and Elvis Dumervil. Now we are in the midst annual mating ritual between for first-round picks and teams, with plenty to be spent in the coming days. Beyond all of this, there are the two white whales out there still unsigned past this season.
Peyton and Tom
Despite the ongoing labor battles, it is a minor upset that Peyton Manning and Tom Brady do not have contract extensions by now as camps begin. At the moment, both will become free agents in a matter of months. And, of course, they would be the biggest free agents in the league's history, although neither would make their free agency LeBronesque.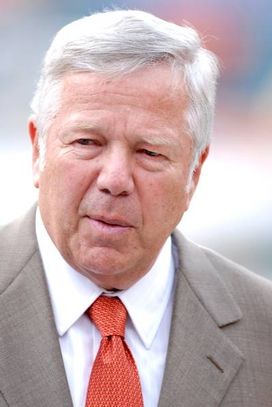 ICONKraft has said the right things on a Brady extension but no deal yet.
Both owners -- the Colts' Jim Irsay and the Patriots' Robert Kraft -- have publicly stated the importance of their franchise quarterback but their actions to this point have not matched their words.
Like many teams, the Colts and Patriots have used the built-in excuse/impediment of the uncertain labor situation as shelter for not acting. While true that it would be better to know the new system prior to the commitment, Manning and Brady – an NFLPA alternate rep – understand the issues and, although will never make the issue public, are aware of lesser players being rewarded with top-of-market deals, albeit with "rolling" or "functional" guarantees rather than full and solid ones (more on that tomorrow).
Market to be set by a rookie
We hear much about veterans unhappy with the absurd amounts given to top rookies. In this case, the contracts of Matthew Stafford last year and Sam Bradford to come will become Exhibit A in these negotiations. Their agents – Manning is represented by the same agent as Stafford and Bradford – will use the expected $45 million-plus expected guarantee to Bradford as a starting point in negotiations.
As to the total value of these deals, that number has less meaning for players who are north of 30. The headlines will blare the total value of deals, those are just numbers on a page; the key is how much guaranteed and in what form.
Manning been there before
As surprising as it is that Manning has not yet been extended, there is history here. The Colts allowed Manning's rookie contract to expire in 2004, placing an $18.4 million Franchise tag on him to give him enormous leverage to negotiate the then-highest contract in NFL history – by a good distance -- in both guarantee ($34.5 million bonus) and average per year ($14.17 million).
The Colts could repeat the past, allowing Manning to play out his contract and place the Franchise tag on him next year, assuming CBA negotiations keep the tag in place. The year-to-year strategy, even with the team's signature player, is something that is probably being discussed. However, the owner made a public commitment to reward Manning back in December; the only issue becomes how much and for how long.
Contract negotiations are about allocation of risk. At age 27 in 2004, there was little risk to the Colts in rewarding Manning. At age 34 in 2010, there is more concern about future long-term risk. The Colts are not going to write a signing bonus in the range of the $34.5 million they gave him in 2004; the guaranteed money here will be more spread out, more layered, and potentially rolling.
Brady's quiet dissent
Tom Brady is as skilled as any athlete in maintaining an impressive brand. He is staying clean here as well, keeping any rumbling of discontent quiet and far from the media.
Brady, as mentioned, is also an alternate union rep, the highest profile player to show interest and commitment to the collective bargaining process. He has a close relationship to the Krafts, but this is business, not personal.
The Patriots withstand player dissent as stoically as any team in the league. They simply do not react; they do not challenge players nor appease them. Player rumblings such as those of Logan Mankins this summer and many before him are simply ignored, left to twist in the wind without response.
The Krafts and Bill Belichick have great fondness for Brady but they, too, are businessmen. There is certainly discussion in the building how the team won eleven games with Matt Cassel at quarterback and about Brady turning 33 next week.
Now these two forces meet. The team will say all the right things about Brady, and Brady won't say anything. My gut tells me the Patriots are not discussing a long-term contract with record-setting guarantees. I have no inside information on this, but my sense is they are presenting something to Brady that is more short-term in nature than long-term. We shall see.
Tomorrow I will look at some of the challenges in doing such significant deals in rewarding the player and protecting the future.
Follow me on Twitter at adbrandt.