July 28, 2010 -
Andrew Brandt
Brady, Manning contract issues: Part II
The Patriots – through their owner Robert Kraft – and the Colts – through their president Bill Polian – have remarked about the challenges of doing substantial deals for players for Brady and Manning in this environment. A constant question I receive is whether that is true or just an excuse for management to not spend? Time will tell.
Team challenges
As to these challenges, they are in two forms: (1) the unique rules of the uncapped year, primarily the 30% rule, inhibiting teams in extending players, and (2) future and potentially past retroactive Cap accounting, as there will be accounting for what is done this year in the future and maybe even looking back. There are rumblings that team spending in this uncapped year will be accountable at some point in the future, and that teams cannot simply press the File Delete button on 2010.
Player challenges
From the player side, the challenge is to have guaranteed contracts the way contracts used to be guaranteed. Now – as evidenced by recent deals by the Jets and Broncos – these guarantees are going to be rolling and layered in rather than allocating risk to the teams entirely (ironically, this is the theme of the NFL in its larger collective bargaining process: sharing the risk).
The 30% rule
This rule has obviously been a factor in recent negotiations that were short-term solutions – Kevin Kolb, Chris Johnson – and in negotiations that have not gotten off the mark yet – Darrelle Revis, DeSean Jackson, DeAngelo Williams and others. Again, the protection is in place to prevent teams from dumping large Cap amounts from the last capped year (2009) to the uncapped year (2010) and beyond.
The rule is not an issue for Manning. With a 2010 salary of $15.8 million, the Colts can stack 30% increases based on a similar number in 2009 on top of that to combine with proportionate bonus money to reach the level of contract he desires if they so choose.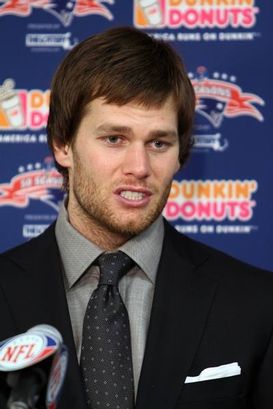 ICONBrady is playing his last contract year for only $3.5 million.
Brady's 2009 compensation was $5 million plus a $3 million roster bonus that is not part of the jumping off point for the 30% calculation, meaning Brady's 2011 number, exclusive of signing bonus, can be only $6.5 million, and so on from there.
Thus, to give Brady the appropriate guarantee and contract level, an extremely large signing bonus structure may be necessary, something the team does not want to do. The 30% rule issue gives the Patriots fodder for requesting a short-term solution similar in structure to the Kevin Kolb contract in Philadelphia. That, however, is not what Brady is looking for.
Then there is the model of the Patrick Willis-49ers, where the team installed a second signing bonus -- a supersede bonus outside of the 30% calculation -- in the second year to bring up the amounts. That structure, however, drew rebuke from other teams and the NFL Management Council. That is not a model that Robert Kraft and the Patriots will follow.
The Brett bonus
With a potential structure of layered signing and option bonuses, the teams are also concerned about rules for future proration affecting their Cap.
As to future proration issues, I used one method to avoid that in negotiating Brett Favre's "lifetime contract" with the Packers in 2001 (that was another lifetime). I wanted to fashion a way to contain our Cap hit in the present year without spreading out multiple signing and option bonuses.
The market for franchise quarterback guaranteed money at the time was roughly $15 million. Bus Cook and I negotiated an $11 million bonus for Brett followed by what was affectionately termed – cue the southern Mississipi drawl – a "scratch your ass" bonus (we had a more formal name in the contract) that paid Brett a $4 million incentive for achieving the minimum allowable performance standards in that year.
Since it paid out as an incentive instead of a signing or option bonus, the Cap hit was contained in the present year and the deal was free from proration into future years that would hamper future Cap flexibility. The money was not technically "guaranteed" but was "functionally guaranteed", as Brett had almost zero chance of not earning it.
The new guarantees
This is a similar concept to the rolling guarantees that the Jets and Broncos have fashioned in the past week. Both D'Brickashaw Ferguson and Elvis Dumervil have to reach February 2011 to have any true amounts guaranteed on their deals, meaning there is a possibility – however small -- that their new huge extensions are really not extensions at all. We are in a time where the traditional models of what is "fully guaranteed" and what is "functionally guaranteed" are in flux. Is there a chance these players will not get their money? Yes. Is that chance negligible? Yes.
Assuming their deals get done, Brady and Manning will likely have some sort of rolling guarantee model. Also, in the usual negotiation, a large chunk of their money will come in a 2011 option or roster bonus a few days after the start of the League Year. The players may have to be patient with that, as we do not know when that League Year will come, if at all. Certainly Brady, the alternate union rep, is aware of that.
It will take some creativity but these deals can get done if both sides are willing. The issue becomes allocation of risk in the event the health or performance of either player goes south.
Stay tuned here and, of course, waiting in the wings is another A-lister, Drew Brees, with a year more left on his contract than those two, waiting and watching with the same agent as Stafford, Bradford and Manning.
Follow me on Twitter at adbrandt.