August 04, 2010 -
Andrew Brandt
Brett redux: for real this time?
The latest reports of Brett Favre's retirement have been met with, well, shall we say, a bit of cynicism and skepticism. Fans, media and teammates have been through this before and have a sense of how it ends, which is with Brett strapping on a helmet at some point after announcing his retirement. Thus, many are thinking, in the words of The Who, we won't get fooled again.
Options open
Having been around Brett for a decade, I have always found him to be a fascinating and likeable contradiction, hedging his bets along the way to keep as many options open as possible. He has said he doesn't care about records, which he cares deeply about. He has said he doesn't care about money, but he -- like everyone who says that – of course does. His press conferences are skilled exercises in hidden meaning, usually with lines like "I'm not saying…" statements which, of course, mean, "I'm saying…".
I heard the Brett Favre retirement rumors soon after I arrived at the Packers in 1999. Indeed, when Bus Cook and I negotiated Brett's "lifetime contract" for ten years and $100 million in 2001, we were hoping that Brett would play two and hopefully three years on that deal.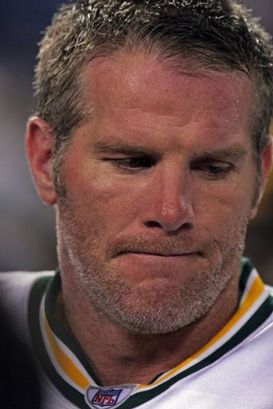 ICONFavre can be very emotional behind his playful exterior.
I have always thought that Brett would play. When he cried in the locker room after a New Year's Eve season-ending game in Chicago, I thought he would return. When he would take months after the seasons of 2006 and 2007 to decide whether to play or not, I thought he would return. And when he tearfully retired in 2008 – a month after I left the Packers – I thought he would return.
I thought so for the simple reasons: he was feeling good, he could still wing it, he would make a lot of money, he would get to spend half the year at home cutting grass, and he liked playing the game. I always smiled when I heard people speculating about Brett's deep, soul-searching times down in Mississippi trying to decide what to do. I don't think it was ever quite that pensive on his part.
Brett has never shied from the fact that he loves playing football, the emphasis on "playing". He was easily bored and especially uninterested in the tedium of the offseason, especially those endless meetings. He just wanted to play. And fortunately for him, he has had that option, both last year – which he took advantage of – and this year, which reportedly he will not.
The Clemens model
I remember talking with Brett as we watched the ways of Roger Clemens a few years back. Clemens signed with the Astros in midseason 2006 and with the Yankees in midseason 2007. I always sensed Brett wanted to be the Clemens of football – sans steroid allegations – picking a team in the middle of the season and riding in on his steed to lead them to glory.
Unfortunately, football does not work like baseball. There is the inconvenient fact that Brett has been property of different teams while on the reserve/retired list, first the Packers in 2008 and now the Vikings in 2010. Only last year, in 2009, was Brett allowed to become a free agent, as the Jets' released him from that list.
As to the on-field differences, Clemens could pitch for anyone; he threw the same pitches no matter what uniform he was wearing. Football is about schemes, about reps, about eleven interdependent parts on the field working through checks and reads, etc. It is not the atmosphere for a player to magically appear midstream and make things happen. Or, as Favre might wonder, is it?
Really retired?
Do I think Brett is really retiring? The one thing that he has that so many athletes who want to return do not is a team salivating for him to play for them. I am sure that players such as Brian Westbrook and others would love to have a team "unretire" them the way the Bengals rescued TO last week. The Vikings are going to hold that door open as long as they can to see if Brett walks through it. If it takes a bit more sweeteners in the paycheck, my sense is that could make a difference although it would be quite transparent that more money ruled the decision.
I guess my final thought is that this retirement may be real because no one believes that it is, and Brett has a fondness for doing what no one expects him to do. Of course, however, this story, as well know suspect, is not yet fully written.
Follow me on Twitter at adbrandt.