July 20, 2010 -
Andrew Brandt
Brick house
I remember the signings at the top of the 2006 Draft well. After being used to first-round picks late in the round with the Packers such as Javon Walker (20), Nick Barnett (29), Ahmad Carroll (25) and Aaron Rodgers (24), I was now staring down the barrel of a top 5 pick.
Hawk and Brick look alike
With Reggie Bush and Vince Young, two skill players sure to have large escalators right above us, we tried to create some sort of financial certainty in our deal with AJ Hawk. We negotiated a five-year deal with a sixth year at the Franchise number for a linebacker or $10 million, whichever was higher, and the Jets did the same right above us with D'Brickashaw Ferguson. Now that cost certaintly has paid off for the Jets and Ferguson, with that year replaced as part of a long-term extension.
As is my aim in analyzing contracts, I hope to show both sides rather than serve agendas. Here's a look at Ferguson's deal, one of startlingly few large contract extensions in uncapped 2010, a year that has not gone well for player contracts:
2010
Ferguson previously had a nonguaranteed salary of $3.1 million this year. That number has been replaced by the following:
Signing Bonus: $1.6 million
Roster Bonus: $3.092 million (now earned)
Salary: $630,000
Thus, in 2010, Ferguson now makes $5.322 million instead of $3.1 million, an increase of $2.222 million with all but the minimum salary guaranteed.
2011 Option
Ferguson has a $3.9 million option bonus that the Jets can exercise "between the end of the 2010 NFL season and the first game played in the season that follows the 2010 NFL season". The language protects the team from paying out the money in the event of a lockout and provides that the player makes the money no later than when football resumes if there is a work stoppage. This may be a template for what is done with options in first-round rookie deals ahead.
The option is "backed" by a non-exercise clause, meaning either the option is exercised, extending the deal through the option year (2017) or, if the option is not exercised, the non-exercise clause pays him that same $3.9 million.

2011-2013
These years have the following base salaries, which become entirely guaranteed for skill if Ferguson is on the roster on February 15, 2011.
2011: $5.615 million
2012: $9.985 million
2013: $7.25 million
There are also workout bonuses of $750,000 each year in the event Ferguson participates in at least 40 of the 48 offseason workouts in the Jets' program.
The amount for these three years plus the option is thus $29 million which, assuming Ferguson satisfies his workout requirements, is fully guaranteed as long as he on the team in February. Combined with 2010 money, Ferguson's guarantee number is $34.3 million.
2014-2017
As nonguaranteed salaries, these numbers do not have a lot of meaning, but here they are:
2014: $5.95 million
2015: $5.95 million
2016: $8.625 million
2017: $11.275 million
Also in these years, the $750,000 workout bonuses are in place, as are $1 million training camp completion bonuses, a way to insure that the player reports and fulfills his obligations without protest through training camp and before the real checks kick in in September. There are also some phony incentives of $1.1 million in the latter two years of the deal for compliance with the 30% that have no meaning to the reality of the deal.
Again, for a team that released Alan Faneca two years after making him the highest paid guard in the history of the NFL, these nonguaranteed numbers don't mean much more than window dressing at this point.
The guarantee
There are two types of guarantee: (1) skill guarantees protects payment if released for ability; (2) injury guarantees protect payment in a subsequent year(s) due to a career-ending injury. An ideal contract from a player perspective has both guarantees. This one has skill only, although there appears to be a reason for that.
The reallocation rule
Stay with me here: since Ferguson's salary in the last capped year (2009) was not fully guaranteed, then any future money into the uncapped year (2010) and beyond that is guaranteed for both skill and injury has to be reallocated into the last capped year – 2009. Thus, had the Jets guaranteed these monies for both skill and injury instead of just skill, then all the future guarantees – over $20 million – would be kicked back (reallocated) into the Jets' 2009 Cap.
So what's the problem, you ask, since 2009 is done and gone? Not so fast. Since the Jets only had a smattering of cap room left in 2009 and could not absorb the reallocation, the contract would have been rejected by the league were it submitted with skill and injury guarantees. Thus, they could only do one or the other. Ferguson's camp chose a skill guarantee, choosing to protect injury risk with a private policy.
Positives for the Jets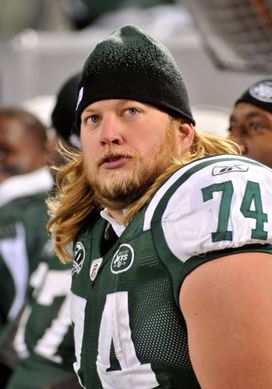 ICONMangold will be affected by the Ferguson deal.
They bring one of their core players under contract for the foreseeable future, locking up one of their priorities while Darrelle Revis, Nick Mangold and David Harris watch and wait.
They were able to negotiate a deal – although functionally guaranteed through 2013 – that allows an out, however remote, in the case of a severe injury to Ferguson in 2010. They also protect payment of their option bonus until there is football in 2011 (or later).
They are able to set a precedent for Revis, Mangold, Harris and others that any large extensions this season will be in this form, a "rolling guarantee" into the future rather than a rock-solid guarantee at the moment.
Positives for Ferguson
The "functional" guarantee is for an eye-popping $34 million. Last year I worked on Jason Peters' contract with the Eagles that put him at the top of the offensive line market with a guarantee of $24 million. Ferguson's guarantee bests even that of the top pick in the 2008 NFL Draft, Jake Long, at $30 million.
Although the contract would in its best case be fully guaranteed for skill and injury together, the Jets were limited by reallocation rules discussed above and the chance of Ferguson not seeing the full guarantee is negligible at best. And even if he were to suffer a debilitating injury, he has made $2.3 million more this year than he otherwise would. As to not having a full injury guarantee on the deal, Ferguson has privately bought such insurance to protect that scenario.
Though not structured in the "ideal" guarantee language, Ferguson's deal is strong.
<strong>Future effect
Due to the operation of the 30% rule, the deals for Revis, Mangold and Harris hold challenges beyond the reallocation guarantee issue above. The players will point to the 49ers deal with Patrick Willis as a potential way around that rule with a second supersede signing bonus, but the Jets will be reluctant to do that type of deal, considered circumvention of the rule by many teams, especially after the precedent of this deal.
The deal made sense for both sides and set new standards for both guarantee levels for offensive lineman and New York Jet contracts to come in the months ahead.
Follow me on Twitter at adbrandt