October 11, 2011 -
Andrew Brandt
CBA resolved, HGH not
Before discussing the lingering issue of HGH testing in the NFL -- or not -- a quick note on the passing of Al Davis. I wrote a few remembrances on Saturday; here is a bit more on one exchange.
After I left the Packers in 2008, Davis and I had a couple conversations about my helping the Raiders as a consultant handling player contracts and advising on Cap management. During one conversation, knowing I was from Washington, D.C., he asked me the following question:
"Do you know Elgin?"
It caught me by surprise, but I had a feeling he might be referring to Elgin Baylor, also from Washington, but wanted to be sure.
"Elgin Baylor?"
"Yes", Davis said. "Do you know him?"
I did not know the basketball legend.
"No, Mr. Davis, I don't know Elgin Baylor"
"Oh, I just thought you both were from Washington, maybe you knew him. He's one of my best friends."
Of all the questions I thought Davis would ask, I would have never thought he would have been curious if I knew Elgin Baylor. Davis was full of surprises.
HGH: To Test or Not To Test
When the NFL and NFL Players Association (NFLPA) announced a ten-year Collective Bargaining Agreement (CBA) on August 4th, one unprecedented aspect trumpeted was that – after union approval – the NFL would become the first-ever major professional sports league to test for Human Growth Hormone (HGH). Now they are finding the actual implementation of such testing to be difficult. Here's a look at what is potentially causing the delay:
How to Test
The NFL and NFLPA have been in constant communication with the World Anti-Doping Agency (WADA) – the organization responsible for the testing Olympic athletes – over the past two months. They have both spent time at WADA headquarters in Montreal listening to WADA scientists explain the nuances and finer points of their isoform test.
While the NFL is more than ready to proceed, the NFLPA still – more than a quarter of the way through the regular season – has reservations about the reliability of the testing, specifically the potential for false positives. The union has concerns about testing NFL players in the same manner due to their mass and musculature compared to the leaner Olympic athlete sample.
With that in mind, the NFLPA has requested further information from WADA to better comprehend the underlying science behind the test. The union also seeks to independently examine and verify data and studies conducted by WADA. WADA has declined to share the requested information, worried that they would be providing a blueprint to help athletes evade detection. Thus, the NFLPA refuses to move forward.
The league has viewed the NFLPA's recent conduct and requests as a filibuster. Speaking of filibusters…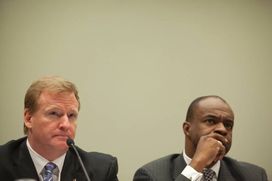 ICONGoodell and Smith may be in front of Congress discussing HGH.
Changing lobbyists
Football lobbying continues on Capitol Hill, now with a different protagonist. During the lockout, NFL officials opposed governmental interference and bristled at DeMaurice Smith leading his constituents on "meet and greets" with congressional leaders.
Now the NFL is pushing for Congressional involvement. Notably, the House Oversight and Government Reform Committee has taken an interest in the issue, recently inviting Roger Goodell and Smith to come present to them. While Goodell will gladly come, Smith and the union are less eager.
Smith, who has played up his political connections, even up to President Obama himself, pushed for Congress to help resolve the NFL labor dispute, which it did not. Now another opportunity has presented itself for Smith to spend time on Capitol Hill, should he choose to do so.
Prevalence of HGH?
Scott Fujita, a well-respected and intelligent member of the NFLPA Executive Committee – believes the HGH epidemic is overblown, estimating that only 1-2% of players in the NFL use it. The question is: how would he (or anyone) even know?
Although I didn't see use of HGH during my time at the Packers, I know every player is looking for an edge and without a legitimate testing mechanism in place it would not be surprising if HGH use were prevalent. Whether or not HGH use is as pervasive, the implementation of a testing protocol would go a long way in deterring possible users.
Hope for Science
A bigger problem may be that the isoform test currently utilized by WADA -- first instituted in 2004 -- can only detect HGH for 1-3 days after use, making it a largely ineffective tool to police NFL players. However, a new "biomarker" test is being promoted by the U.S. Anti-Doping Agency, and can purportedly detect HGH use for up to three weeks after usage.
While the science tries to catch up to the reality of players seeking an edge and evading detection, the much- celebrated HGH testing in the NFL lies dormant, awaiting NFLPA sanction and/or Congress inserting itself into the fray.
Follow me on Twitter at adbrandt.