September 05, 2011 -
Barry Dorey
Cold Cuts
After 20 years around the business of professional football I am still not desensitized to the cold reality of Labor Day weekend every year. At a time where we celebrate labor in this country, the NFL's labor force is drastically reduced as teams pare their rosters for the opening of the season. Prior to this weekend, there were approximately 2800 players in the NFL; now there are approximately 1900, as a third of the workforce has been scrubbed.
The truth is that most teams know the vast majority of the final roster before training camp even starts. Sure, there are a few players that turn heads and force a change to the depth chart, but teams know who is going to be there and who is just serving as training camp fodder.
Usually the release of players is handled by one of the team's pro personnel directors. In some cases, the position coach will meet the player, but he is on to game-planning for the opening game. And, in rare cases usually involving a longtime veteran, the head coach will meet with a player for a few minutes.
Lost in Translation
Here is an example of what is said to these players, and the reality of what is meant:
You had a real chance to make this team.
You had no chance to make this team.
I fought for you to make it.
I could have fought for you to make it, but you weren't worth it.
You were caught up in the numbers.
We chose other numbers.
You were the hardest decision we had to make.
What's your name again?
We'll call you if we have injuries at your position.
We'll call you if we have injuries at your position and no one else is out there.
Missed opportunities
This past weekend points out some missed opportunities that I thought the NFL Players Association had in the recent CBA negotiations that produced a ten-year agreement.
Compensation for release: Most players released do everything the team asked and in non-lockout years, do so for six months before being fired. It would seem fair that they receive some small percentage of their salaries for a half-year of effort -- maybe 5% -- beyond the workout and training camp per-diems. That was either not addressed or not successfully negotiated in the CBA.
In-season injured reserve: Many decisions were made this weekend looking into a medical crystal ball to determine how long a player will be out. Teams have no option to wait and see as roster decisions have to be made. It was unchanged that placing a player on injured reserve puts them out for the season with no chance to return even if the player feels 100% by later in the year (which many do). It was my understanding this was addressed at some point, perhaps in conjunction with the 18-game "enhanced season" discussions, but nothing emerged.
Increased roster size: This was also a part of early CBA discussions, allowing teams to increase a spot or two from the present 53 and potentially adding 32-64 jobs to the labor force. Again, nothing came of it and perhaps it will resurface if and when the 18-game schedule discussion begins anew.
Not so final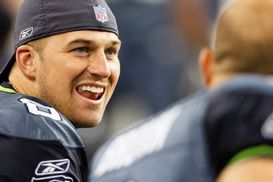 ICONHasselbeck had made the Packers only to be cut the same week.
Although the weekend is over, the cuts are not. I remember representing sixth-round pick Matt Hasselbeck with the Packers in 1998 and we celebrated as he made the team after final cuts. Then the Chicago Bears cut Rick Mirer -- who Mike Holmgren liked -- and Matt was demoted to the practice squad. These things happen throughout the week.
And there is the vested veteran issue. If a vested player -- with four or more years of NFL experience -- is on the roster as of this Saturday afternoon, his salary is guaranteed for the year (through termination pay). If that same player is signed two days later after the first weekend of games, his termination pay is a fraction of that. That is why we will see vested veterans released or simply not signed -- Tiki Barber and others -- until next week at the earliest.
Labor Day always has meant less labor in the NFL. With a new CBA and a new season of hope, nothing's changed. The NFL's workforce was reduced by 30% this weekend. If anyone needed a reminder that the NFL Is all about business, this was it. On to the games...
Follow me on Twitter at adbrandt.