February 23, 2012 -
Andrew Brandt
Combine Confidential
Finley finds a deal
Before getting to the Combine, a note on the two-year deal agreed to last night between the Packers and talented tight end Jermichael Finley, an agreement with a value of $14 million, with $10.2 million of that amount coming over the next 13 months. The deal makes sense for both sides.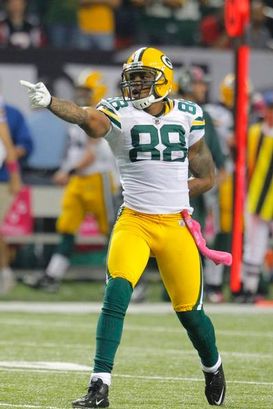 ICONFinley re-ups with the Packers for two years.
For Finley, he avoids an under-market tight end Franchise Tag of $5.5 million and a potentially messy battle over whether he merits a wide receiver Tag number of $9.5 million.
The best news for Finley may be that he is a free agent again in two years at the tender age of 26! He will have another bite at the free agency apple in the prime of his career. And by that time, he and the Packers will know if Greg Jennings, whose contract expires after this season, will be retained or not.
Finley is a talent that the Packers did not want to lose. Now both sides have two more seasons together and more data points will be established prior to another showdown at the bargaining table.
On to the Combine....
While the Super Bowl – three weeks before the Combine – is the sizzle, the Combine is the steak. Here is some insight about what goes on:
The drills
The "meat market" part of the Combine is probably most striking. Players walk around in shirts and sweats displaying numbers and names. They are asked to stand in front of hundreds of scouts in only their gym shorts, then asked to turn around and sometimes asked to bend, while scouts write down in the notebooks observations about their frame.
Then come the measurables: speed, strength, agility, intelligence and, most importantly, medical, as each player is poked and prodded by all 32 NFL team doctors.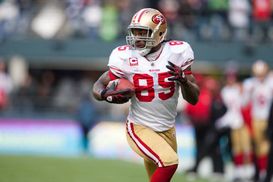 ICONScouts came back drooling at Vernon Davis's workout at the Combine.
As to whether teams place too much or too little emphasis on Combine measurables, my feeling is it is another set of metrics to go along with on-the-field game performance. Everything is data to be considered in evaluation.
Do freaks of nature surface at the Combine? Sure. I remember in 2006 when scouts came back from the week in Indianapolis raving nonstop about Mario Williams and Vernon Davis. But again, it's all a part of the process, soon to be followed by Pro Days, more interviews, more testing, more game tapes to watch, etc.
The agents
There will be approximately 900 NFL agents in Indianapolis this weekend, many of whom have no clients. The annual NFLPA meeting is scheduled on Friday and agents are required to attend as part of their certification. I was asked to speak there one year while with the Packers, having been an agent, but due to ongoing bargaining the Packers and NFL Management Council told me to refrain.
The meeting will be the first gathering since the negotiation of the new ten-year CBA with the NFL. Many agents felt ignored during the negotiation process and it will be interesting to see if the meeting becomes heated.
I remember when agents could roam (relatively) freely among the players' hotel. Now agents are barred from most areas; however, they attend to take their players out to meals, give pep talks, and provide moral support while, of course, protecting their new assets from potential poachers that lie in wait.
Agents have little to no influence in getting clients invited to the Combine. Or at least I did. I unsuccessfully tried to secure an invitation for a quarterback from Boston College named Matt Hasselbeck. Now fourteen years into a prosperous NFL career, Matt and I have a nice laugh every year while recalling the names of quarterbacks invited ahead of him that never played in the NFL.
The interviews
Beyond the physical workouts, players are shuttled from team to team for interviews. The answers are predictable – the most important person in their life is their mother, they are very coachable, the problem they had in college with their coach/teammate/girlfriend, etc. was an isolated incident, etc. The players have been "coached up" by agents and services specifically designed for these interviews.
One year I joined the Packers' interviews. With my legal background and inquisitive nature, I tried to dig deeper and go off-script, asking a lot of questions that started with "Why?" and see how they could re-focus on changed circumstances. Since our time with these players was very limited, I was soon told to ease up on the interrogations.
The tampering
The timing of the Combine – which precedes the opening of free agency and trading – necessitates discussion of player contract negotiations and/or movement. Meetings between team negotiators and agents take place in hotel rooms and lobbies and restaurants throughout downtown Indianapolis. With the Packers, we stayed at the Omni hotel, as did several other teams, and we would each have our section of the lobby where we would meet agents.
Most of my meetings were about players that we had under contract already and we were either trying to re-sign (as the Finley deal last night) or listen to complaints about what the player was making. In the rare times where we were talking about potential free agents, I was careful to phrase questions such as "In the event your player is out of his contract next week, what would you be looking for?"
What became frustrating as a team negotiator was when I could not even talk to agents of our players with expiring contracts because the agent had so many meetings scheduled with other teams. Could I prove that he was talking about our player? No, as most agents have existing players on many teams. But it was maddening to watch agents ignore the player's existing team to seek out other options.
Let the (Combine) games begin.
Follow me on Twitter at adbrandt