July 13, 2010 -
Andrew Brandt
Defending LeBron: why the vitriol?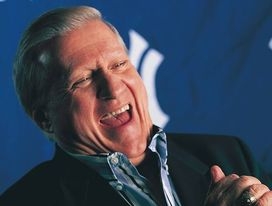 ICONMany wondered whether a Steinbrenner would develop in the uncapped NFL.
First, homage to George Steinbrenner, who passed away this morning. It is interesting that in this uncapped year in the NFL, the fear was that one or more NFL owner(s) would become Steinbrenner-esque and engage in unfettered spending to buy up all the best players he could. Well, not so much. Perhaps there is only one Steinbrenner. RIP.
Now a final thought about LeBron and The Decision before moving back to football for good (I promise).
I was as critical as most about the wearing nature of the LeBronathon and its narcissistic tone last Thursday night. Having said that, I'm now starting to empathize with LeBron in the fact of all this piling on.
I've heard the incessant rants about how selfish LeBron is, how he turned his back on his home in Akron and the Cavaliers. I've read the vitriolic press release sent out by the Cavs owner Dan Gilbert, the man who a day before that release would have gladly written a $125 million check to LeBron as fast as LeBron can dunk. That release cost Gilbert $100,000, the fine imposed by NBA Commissioner David Stern. I trust his short-term emotional satisfaction in writing it was worth it.
Business decision
Let's be real here. LeBron – with advisors in his camp including Warren Buffett – played the situation quite adeptly for a 25 year-old. Very simply, he put himself in the best position to be successful. This was a plan hatched long ago with two players that he not only liked personally, but felt could complement his talents professionally in ways that the Cleveland front office could not, whether through their personnel evaluation or Cap flexibility.
While NBA team executives flocked to Cleveland to present LeBron with all kinds of marketing opportunities he could have in creating his brand beyond basketball, the Miami Heat was the one team that truly got his attention. Their presentation was simple: we have Cap flexibility to afford you, Dwayne Wade and Chris Bosh on this team right now at near-maximum salaries to create a team ready to win now and in the future. That was what LeBron needed to hear, not speeches about brand building.
LeBron chose this opportunity over money (the Cavaliers could have paid him almost $30 million more) and marketing (the Knicks presented that he could make $1 billion by being on the biggest stage). He chose the opportunity to play with elite teammates over being "the Man" with other teams.
LeBron made a business decision similar to career decisions that people make every day. He had lived his whole life in Northeastern Ohio and made a decision to move to Miami due to an opportunity that was more appealing professionally than the one he had in Cleveland. Would we all not do the same?
These are the good old days
My experience is that many look through a tainted lens to the past. The glory days are very subjective. I have heard much talk about how LeBron is no Michael Jordan, how he is more self-absorbed than the superstars or days gone by.
Well, uh, no. Sure, it was unique to have a one-hour special on the decision, but it did raise millions for charity and the weakness in the programming was not due to LeBron but the shameful fawning around him. Would we have preferred that LeBron simply leak his decision to a reporter? Or announce it through his web site or Facebook or Twitter?
Michael Jordan was last seen in public giving his speech at his Hall of Fame induction calling out a few rivals from his past and making sure we all knew his legacy. LeBron was last seen telling the world he wanted to play with elite teammates where he would not have to be the focus of the team all the time.
In twenty years, when the next LeBron decides to tell the world of his plans through whatever is the newest and latest form of self-expression, we'll hear scores of fans and media rail about the athlete and hearken back to 2010 when LeBron James used ESPN to announce his plans.
Turn the page.
Follow me on Twitter at adbrandt.