December 06, 2011 -
Andrew Brandt
Donovan's Decline
The career of one of the NFL's most celebrated quarterbacks in the past decade may have come to a quiet close last week. The Minnesota Vikings – Donovan McNabb's third team in the last 19 months – granted McNabb his freedom, placing him on waivers Thursday. McNabb – who went unclaimed – now waits for a call from a new team, a call that may or may not come this season or even next.
House Money
The Vikings, as the Broncos last week, (1) saw injuries to other NFL starting quarterbacks, and (2) disposed of an expensive player that was never going to play for them again. Like the Broncos, the Vikings were playing with house money.
As vested veterans, Kyle Orton and McNabb were entitled to the remaining balance of their salary – as termination pay -- if released and unclaimed. The Chiefs saved the Broncos $2.6 million by claiming Orton. The Vikings were not as lucky with the $1.45 million due McNabb.
Many have asked whether McNabb gave up his termination pay for his release. When I asked a Vikings official about that, he answered with a long pause and heavy sigh: "We still owe."
McNabb has had a disappointing couple of years since being the signature player of the Philadelphia Eagles. Let's examine: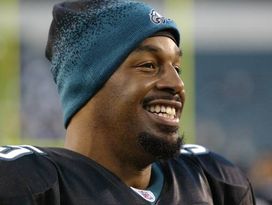 McNabb had a productive but sometimes choppy career in Philadelphia.
Eagles Rough Landing
In June of 2009, with McNabb's contract having two more seasons, the Eagles gave McNabb an adjustment that (1) added $5.3 million to his 2009 pay, satisfying his discontent about that contract, and (2) allowed the team flexibility in 2010 to move that contract without penalty. Which, of course, they did.
On Easter day 2010 the Eagles traded McNabb to Washington. After the Eagles paid McNabb close to $80 million over a long career in Philadelphia, the team then handed the keys to understudy Kevin Kolb (only to take those keys from Kolb and hand them to Michael Vick a year later).
In consulting with the Eagles at the time, I noticed the players' reaction to Vick when he arrived. Players were energized and excited to have Vick, a different vibe from their feelings about McNabb who, while liked and respected, was seen as corporate and a bit detached.
The end of the McNabb era in Philadelphia was significant but not traumatic; his time had run its course and it was time to move on. As with Aaron Rodgers in Green Bay, the Eagles had seen Kolb for three years and liked what they saw; it was time to bring him out of the bullpen.