August 06, 2010 -
Andrew Brandt
Elvis injured; what about contract?
News out of Denver is extremely troubling for the Broncos and one of their top players. Elvis Dumervil may have suffered a season-ending pectoral muscle injury that could potentially have dramatic effects not only on their defense but on the mode of guarantees in present contract negotiations. As described below, there is a chance – made more realistic by this injury – that Dumervil may not see any of his $61 million extension, even the $43 million of it which is "guaranteed". Let's take a look.
Bronco bonanza
The Broncos have been one of the teams most advantaged by the uncapped year. Instead of potentially losing them without compensation, the team was able to hold rights to Dumervil, Brandon Marshall and Kyle Orton with simple one-year tenders rather than long-term deals. Now only Orton is still on the tender, with Marshall having been shipped out for a high draft pick and Dumervil rewarded on the eve of training camp.
Dumervil quietly became the highest paid player in the history of football – excluding Sam Bradford, but that is for another discussion -- in terms of guaranteed money with an amount of over $43 million. Unless he isn't. Let's look inside the deal: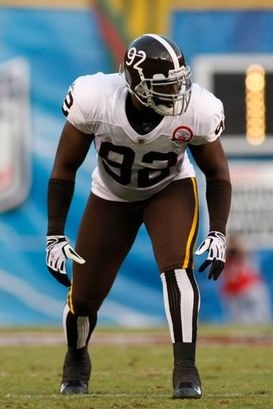 ICONDumervil's huge contract is potentially at risk with his injury.
2010
Dumervil was on a one-year tender at $3.185 million. He will make that same amount, with all but the minimum salary guaranteed. Thus, this year's compensation becomes a $2.555 signing bonus with a $630,000 salary.
Unlike the recent deal for D'Brickashaw Ferguson with the Jets, Dumervil's present-year earnings did not increase. As we will see, there is a chance that this is all the money that Dumervil makes out of this deal.
2011 and 2012
The salaries for each year are $14 million. As of right now, these amounts are guaranteed for injury, meaning Dumervil will be paid these amounts if he suffers a severe injury rendering him unable to play in these years. Although the present pectoral muscle appears serious for 2010 performance, it would be unlikely that this injury would be catastrophic towards playing in future years.
As of the fifth day of the 2011 League Year, a year that we know is presently in flux, these salaries become guaranteed for skill, meaning that Dumervil will be paid these amounts no matter what the reason if he were released.
The uncertain labor situation makes the fifth day of the 2011 League Year a variable date. It could be in March; it could be much later.
Positive cash flow
Assuming Dumervil makes it to that fifth day of the 2011 League Year, the Broncos will help the cash flow of the deal for Dumervil in this way: it will advance $6 million of the $14 million in 2010 on the 27th day of the 2011 League Year, and pay the other $8 million during the season. And, in 2012, the team will advance all but the minimum salary of $700,000 to Dumervil -- $13.3 million – on the 27th day of the 2012 League Year.
2013
Dumervil has an injury guarantee for $9 million of the $12 million 2013 salary if he suffers a catastrophic injury preventing him from playing in 2013 during the 2010 or 2011 seasons. Again, it would appear highly unlikely that the present pectoral injury would qualify.
Dumervil has an injury guarantee for all of the $12 million 2013 salary if he suffers a catastrophic injury preventing him from playing in 2013 during the 2012 season.
The True Guarantee
The deal has been reported to have a $43.1 million guarantee, making it the highest guaranteed contract in the history of the sport. That is true, sort of.
As of this moment, Dumervil has a full guarantee of $3.185 million and an injury guarantee -- for a sever injury -- of $28 million in 2010-2011, and an injury guarantee of $9 million or $12 million in 2013. So, yes, he does have a guarantee of $43.185 million yet, at this point, only roughly $3 million of it is for injury and skill.
On the fifth day of the 2011 League Year, whenever that is, the $28 million for 2010-2011 becomes fully guaranteed, making the guarantee over $31 million at that time for skill and injury.
The 2013 guarantee – for $9 or $12 million – is always for injury only.
The out years
Dumervil has the following nonguaranteed salaries at the end of the deal:
2014 $10 million
2015 $8.193 million
These numbers are meaningless at this point, but we will factor them in for average purposes.
Total deal
The deal is an impressive one for a restricted free agent in this limbo year. However, its $43 million over four years is not as impressive as DeMarcus Ware's $45 million over three years or Terrell Sugg's $40 million over two years.
The $61.3 million over six years can be seen as a $10.2 million average. Or, if we exclude the restricted year and look at "new money", as agents do in pumping deals, the deal is $57.5 million over five years, or an $11.5 million average.
Chance for a mulligan
Now Dumervil has suffered a season-ending, although not career-ending it would seem, injury. Without a skill guarantee, would the Broncos take a mulligan on that huge guarantee and contract and release Dumervil after the season or renegotiate the contract downward?
Not likely, but the chance does exist. It would create an awfully angry locker room and distrust for Josh McDaniels and the front office. And it could force different kinds of deals than this around the league. But it could happen.
This is why Darelle Revis is pushing so hard to not be guaranteed in this way, the rolling guarantee that has become in vogue now. He wants the real guarantee: the massive signing bonus. We'll see which side blinks there.
In sum, the Dumervil deal - in light of his injury -- puts the reputation of a franchise and the method of negotiating large guaranteed contracts in this uncertain labor environment at stake.
Follow me on Twitter at adbrandt.
Ready for fantasy football? Click here to purchase the 2010 Total Access Pass/Draft Guide from the NFP.