November 10, 2011 -
Andrew Brandt
Extension End Point
There are a few flashpoint dates on the NFL calendar that represent possibilities for teams to lock up core players for the future and commit to them long term. These times include (1) prior to start of the League Year, in the time between the Super Bowl and the beginning of March, when a team sets its course for the offseason; (2) training camp, when a team secures contracts before the business of football defers to the games; and (3) the middle of the season up to the Cap deadline of the 10th week, where teams can sign players to extensions and contain the financial impact within the confines of the current season.
That deadline came and went on Monday with only one deal signed in the NFL, that of Robert Garza and the Chicago Bears.
Lost Opportunity
It's unclear why more teams did not use Monday's deadline to secure players for the future and take advantage of the rule allowing money to be allocated disproportionately to 2011 rather than have it pushed into future years. There is over $300 million of Cap room in the NFL to be utilized; yet few teams have utilized their Cap space to negotiate extensions this season.
To explain extensions done prior to the Cap deadline, here is an example. Let's say a team was to extend a player for the next four seasons with $5 million of additional money. They could add that money in the following ways: (1) as additional 2011 salary; (2) as a roster bonus or an easily earned incentive; or (3) as a signing bonus.
In the first two examples above, the $5 million would be accounted completely in 2011 with no money prorated into future seasons. Conversely, a $5 million signing would be prorated, meaning $1 million would be allocated into 2011 and $4 million pushed out into future years.
Also, it is imporant to note that teams can still extend players through the Saturday before the final game of the 2011 season but all increases – salary, roster bonus, etc – will be treated as signing bonus and prorated into the future.
Cap Control
As readers know, I strongly believe in a "pay as you go" model of Cap management. With the Packers, there was always temptation to convert Brett Favre's large salary into prorated signing bonus to provide short-term relief. However, having learned from other situations where a franchise quarterback had retired, been released or traded – Aikman, Elway, Young, McNair, etc. – I did not want to leave the Packers in "Cap jail," unable to field competitive future teams.
This style of Cap management can lead to consistent efficiency to allow teams to use ample Cap room to create cycles of sustained success.
No deals
Surprisingly, with so many ongoing potential contract situations around the league, only the Bears and Garza took advantage of this Cap deadline (the Bears were also trying to work out something with Johnny Knox but the sides couldn't reach agreement by the deadline).
The lack of deals prior to the deadline illustrates that ongoing negotiations – or perhaps the lack thereof – for players like Drew Brees, Matt Forte, DeSean Jackson, Fred Jackson, Jermichael Finley and others have a long way to go before a final push could be made to try to find common ground.
Speaking of failed negotiations......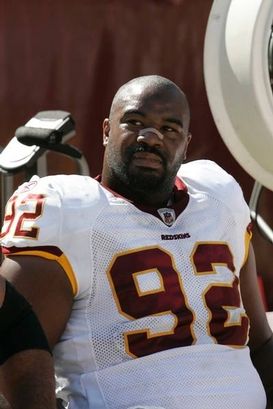 ICONHaynesworth collected $36 million from the Redskins.
Albert's Angst
Just as JaMarcus Russell has become the poster child for everything that was wrong with rookie contracts, Albert Haynesworth has clearly become the poster child for everything that is wrong with overpriced free agent contracts.
Haynesworth collected $36 million from the Redskins for two lackluster and trouble-filled seasons. Clearly, there was a reason the Tennessee Titans never signed Haynesworth long term and went year-to-year with franchise tags.
The Patriots thought they had secured quite a bargain when they acquired Haynesworth for a fifth-round draft pick and a reduction of his scheduled $6.4 million 2011 salary to a manageable $1.5 million.
Not so much. After half a season, the Patriots shed Haynesworth and his considerable baggage. Luckily for them, the Buccaneers saved them from paying Haynesworth roughly half of his salary this year. As a vested veteran, Haynesworth was entitled to termination pay for the balance of his $1.5 million – $706,000 remaining due -- were he not claimed on waivers. Tampa Bay's claim of Haynesworth assigns the remainder of the contract to them.
Robert Kraft owes the Glazers a nice dinner for that $706,000 claim.
Follow me on Twitter at adbrandt