March 05, 2012 -
Andrew Brandt
Flynnsanity
The Packers' decision today regarding whether to place the Franchise Tag (Tag) on quarterback Matt Flynn has several layers to peel back in weighing the choice. It is not as simple as "Tag and trade him!"
Freeing Flynn
Flynn signed a four-year rookie contract in 2008 that is now expiring. Thus, the only way for the Packers to retain him would be to extend his contract – doubtful with other teams looking at him as a starting quarterback – or tag him.
Of course, the Packers would be tagging Flynn with no intention of actually keeping him on their roster. Rather, the Tag would be a placeholder until trading Flynn for value back to the Packers.
Tougher Tag
When the Tag was introduced into the NFL it was designed to keep each team's, well, "Franchise" player from entering the market: players such as John Elway, Troy Aikman, Brett Favre, Steve Young, etc.
That was then; this is now. The Tag has now become far more potent; it has become a tool to keep the team's best free agent in a particular year. And the new ten-year CBA served to further enhance the Tag, lowering its amounts to give teams further advantage in tagging and in negotiations.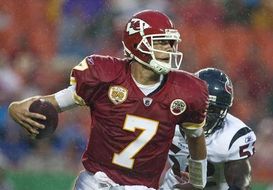 The Tag and trade of Matt Cassel to KC had different circumstances.
Tag and trade?
The Tag's reach also continues to expand. Since the language of the Tag does not address intent, teams are using it beyond the original meaning of the Tag. I was once told the spirit of the Tag was that there had to be "intent to sign", clearly not the case with Flynn. As to the Matt Cassel "tag and trade" in New England in 2009, there was cover due to Tom Brady's rehabilitation from a season-ending injury.
Now I have been told the Tag requires "intent to employ". Does that include intent to employ with another team? Probably. It appears a Tag and trade by the Packers will be allowed despite being on the edge of the spirit of the rule.
Leverage game
Flynn, if tagged, can immediately sign the projected $14.5 million one-year tender to make it guaranteed. And were I advising him, I would tell him to do so.
Flynn would have tremendous leverage with (1) the Packers, who could be stuck with a backup making $6.5 million more than Aaron Rodgers' $8 million salary; and (2) the trading team, who needs Flynn signed for more than one year.
Tagging Flynn also gives leverage to the trading team, who can firmly negotiate a trade knowing the Packers have to deal Flynn.
Which leads to…
Trade tampering?
The Packers, for reasons above, must be completely sure about a trade today, eight days prior to the March 13th start of the NFL trading period.
Teams are allowed to explore but not consummate trades prior to March 13th. Although the Packers may talk hypothetically about, say, a second-round pick for Flynn, one never knows what could happen between now and March 13th. What if, for instance, Peyton Manning becomes free in the interim – Thursday -- and the trading team's fancy turns from Flynn to Manning?
Player tampering?
And what about tampering with Flynn? With Flynn under contract to the Packers until at least March 13th, no team can "legally" talk to Flynn's agent about a contract until that time. A trading team has to know Flynn will agree to a long-term contract, as it will not give up a high draft pick for having Flynn only 16 games.
If a trade goes through for a tagged Matt Flynn soon after March 13th, we will be led to believe the trade and contract suddenly after that date. And that the Easter Bunny brokered the deal...
Will Flynn get the Tag?
I don't see it. I sat in that front office for nine years. The Packers are not a team to push the envelope with risk, and these decisions are all about risk.
To tag Flynn exposes them to risk that (1) they end up with Matt Flynn as a backup making $6.5 million more than the NFL MVP; (2) the trading team leverages a price lower than a second-round pick; (3) the NFL and/or NFLPA questions their decision; and (4) they tempt violation of tampering rules for having a trade in place prior to March 13.
I understand those who say for the Packers do whatever it takes to get compensation for Flynn. And I know firsthand how Ted Thompson craves second round draft picks. And it may well happen. I just don't think it will.
The deadline is 4pm et today. Stay tuned.
Follow me on Twitter adbrandt.