April 01, 2011 -
Andrew Brandt
Former and future players collide
On March 11, the day the union died (although the NFL continues to refer to the death as a "fake suicide"), NFLPA chief DeMaurice Smith made careful mention that he was fighting for not just for the rights of active players, but for the rights of former and future players as well. Well, time has shown that he has been true to his word, although perhaps not in the way either group would prefer. Let's examine: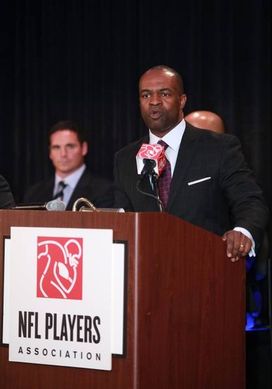 ICONSmith refers to "former", not "retired" players.
"Former" not retired players
Smith is very quick to refer to players no longer playing as "former players" rather than "retired players."
As a guest of a former player, I attended a meeting between Smith and a Philadelphia local chapter of NFL retired players. Smith, a compelling speaker, emphasized to the group that an active player could become a former player in the time it takes to receive a phone call telling him that his services are no longer needed. As both an agent and team executive, I have seen hundreds of players shown the door, so I understood his message. The overwhelming majority of players do not retire; they are "retired" by their teams. There are literally thousands of former players out there that wish a team would "unretire" them.
Same constituents, different bodies
There has been a bit of a kerfuffle between two groups claiming to represent these former players, with reasons for the friction apparent as to where the groups are housed.
NFL Alumni -- led by former player George Martin -- is supported by the NFL and based in Newark. Down in Washington, the NFLPA also has an arm that represents, advises and informs former players, led by former players Nolan Harrison and Cornelius Bennett. When these two sides met last week, the meeting – to put it mildly -- did not go well. No surprise here, as even though they both purport to represent the same group, they are advocating on behalf of a group in contentious litigation with the other side.
I am sure that Martin and Bennett and Harrison all have their heart in the right place in trying to find greater financial and emotional support for former players, some of who face great physical and mental challenges. And in another time and place, these men would enjoy recollections from their days as active players. That is not happening now. They are too entrenched in courtroom football for a meeting of the minds.
One pot of money
The reality with former players is that it is the active players and future players who are deciding their fate. At some point, after the exhaustion of litigation takes its course, there will be a deal on the table for active players -- the (former) union -- to decide to take or not. And at that point they will have to decide how much of what is offered will be earmarked to former players.
My sense is that the NFLPA will receive between 45-48% of all NFL revenues, a slice of which will fund programs for retired players and augment players who retired before higher pensions of the 1993 CBA. It is largely up to NFLPA leadership to determine from what sources and how to allocate money to former players.
And this is where the future players come in.
Rookie Sacrifice
As noted many times, the top picks in the Draft will never see the bonus and guarantee amounts that they have had previously. Sam Bradford will be the last of the big bonus babies.
While the NFL has offered a much more draconian version of rookie pay, the NFLPA had agreed to reduce bonus and guarantee amounts for the top picks (for a group that ironically includes Brady v. NFL named plaintiff Von Miller). It is the amount of such reductions the subject of further negotiation.
In the NFL's rookie proposal, savings of close to $200 million a year from rookies – largely from the top picks -- is earmarked for increases to pre-1993 retiree pensions. Thus, within that offer is a potential "divide and conquer" strategy from the NFL to active players: how much of the rookie savings do they want allocated to them and how much directed to former players? That is a question that has to be answered internally prior to figuring out their differences with ownership.
While the fight goes on in court about active players, the former and future players are battling it out on the periphery for the same money. Yet another tentacle to this ongoing drama…
Follow me on Twitter at adbrandt.