October 01, 2010 -
Andrew Brandt
Friday new$ and note$
Bear market
When the bell went off for free agency in this uncapped year, many expected the usual suspects – Redskins, Cowboys, Vikings, Raiders, etc. – to set out into the free agent market with abandon, reeling in players with no limits on their spending. Of course, for reasons of diluted talent and a rollback on player spending this year, that did not happen. In fact, the biggest splash in 2010 free agent spending was made by – wait for it – the Chicago Bears!
In the opening day of free agency, the Bears landed three players at the top of their position groups on the market. In a span of hours, the Bears spent more total contract value and guaranteed money in unrestricted free agency than they had spent in the previous eight years of the Jerry Angelo era combined. Who knew!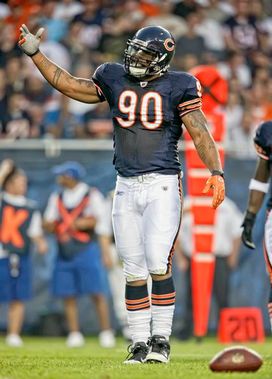 ICONThe Bears picked an expensive Peppers.
The undisputed prize of the 2010 free agent class was Julius Peppers, the wonderfully gifted defensive end. Peppers and his incumbent Carolina Panthers both agreed it was time for a change. Peppers wanted a change of scenery and a long-term commitment and the Panthers wanted a reduced payroll and are hamstrung with $13 million still due to Jake Delhomme (who is also receiving $7 million from the Browns this year!).
Peppers windfall with the Bears includes $20 million this year, $11.5 million next year and $9 million in 2012. That is $40.5 million; all guaranteed, a shade under the previous year's golden ticket winner, Albert Haynesworth. It is still early, but the Bears picking Peppers has appeared a productive signing, especially compared to the Redskins' failed expensive venture with Haynesworth.
As to the Bears' other two signings on that fateful first day of free agency, let's check in.
Tight end Brandon Manumaleuna (let's call him Brandon) inked a deal for $15 million over five years with $6.1 million in 2010 in the form of a $2 million signing bonus, a $3 million roster bonus and a $1.1 million salary.
For that money, Brandon has no statistics in the first three games and it appears that he will earn his $6 million this year as a blocker in Mike Martz's scheme, playing in about half of the offensive plays. He also was fined $22,000 for missing a team meeting before the first game; not realizing the regular season meeting schedule differed than the preseason one.
Running back Chester Taylor, although at the dangerous age of 30 for a running back, was in demand, wooed by his incumbent Vikings before choosing the Bears. Taylor signed a four-year deal worth $12.5 million with $7 million in 2010 (the Vikings were offering about half of that) in the form of a $2 million signing bonus, a $4 million roster bonus and a $1 million salary. Through three games, Taylor has 16 carries for 44 rushing yards (18 yards less than Jay Cutler) and is playing in about a third of the offensive plays.
The Bears are the only undefeated team in the NFC so all appears well in Chicago for the moment. On the free agency front, Peppers looks to be earning that $20 million this year. As to the other two prizes from that eventful first day, the season is still young, but the early returns are modest at best.
Dinner on Dez
The story of Cowboy wide receiver Dez Bryant's high-priced dinner is amusing but more troubling than cute, although not necessarily the fault of Bryant. To review, Bryant – who refused to submit to the rookie ritual of carrying the shoulder pads of veteran players in training camp -- agreed to take his offensive teammates out to dinner when fellow wide receiver Roy Williams decided the team's defensive players should also be wined and dined on Bryant's dime. Not surprisingly, the team overindulged, leaving Bryant a tab of just under $55,000 – more than the country's average annual household income.
Unfortunately, the story fuels the perception of athletes living for the moment, out of touch with reality and frittering away money they will need later on in life. Williams, who has had windfalls from both the Lions as the 7th pick in the Draft and the Cowboys with a $54 million contract ($26 million guaranteed), has made his money. Bryant, with a five-year contract worth under $12 million with $8.3 million guaranteed as the 24th pick in the Draft, has a way to go before long-term financial security.
Bryant's 2010 salary is $320,000 (a part of his guaranteed money). He spent 17% of that on dinner the other night, about the amount of 3 of his 17 paychecks for this season (to be fair, he received over $2 million of bonus money earlier this year). I don't want to be sound too paternalistic here, but with what's going on with the economy and the ongoing fight between the players and the owners about how to split $8.5 billion in gross revenue, this story highlights the excess in the lives of professional athletes at a time where it is least needed. The NFLPA wants no stories like this out there now.
Bryant was admittedly in a no-win situation after refusing to carry Williams' pads in training camp. Had he skipped out on this bill with his teammates watching, we can only imagine the outcry about him being a diva and a bad teammate. I blame Williams more than Bryant for this exercise in excess.
Hope the Cowboys enjoyed the meal.
Follow me on Twitter at adbrandt.
Want to work in the NFL? Click here to register for the NFP's "Chalk Talk" seminar in Chicago on October 22nd.