October 22, 2010 -
Andrew Brandt
Friday new$ and note$
Brett back to $100 million home
Sunday night in Green Bay will be the third contest between Brett Favre as a rival Viking against the team for which he was the face of the franchise for 15 years. As someone with the Packers for nine of those years, it is still odd to see Brett in a Viking uniform, the delayed result of "the divorce" from over two years ago where Mike McCarthy told Brett those three poignant words when he asked for his job back: "We've moved on."
With more time passing, the emotions should not be quite as intense as a year ago. Packer players have told me that McCarthy was as tightly wound as they had ever seen him in the two games against the Vikings last year.
Last year at this time before the first time Brett played the Packers as a Viking I detailed the compensation paid by the Packers –much of it while I was managing cash and Cap at the Packers – to Favre over his years there. There has probably never been a player playing against a team that had paid him so much. Here is that article.
It came out to total compensation from the Packers to Favre for 16 years of service: $98 million.
And he gave the Packers a lot in return, raising the national and international profile of the team and geometrically increasing its asset value.
After playing for $12 million both in 2008 with the Jets and with the Viking last year, Brett's $13 million was adjusted by the Vikings this year to an amount of $16.5 million, with incentives that could add another $3.5 million. Thus, career on-field earnings so far for Brett after this season will approach $140 million.
Brett also helped those around him increase their earning power as well. Based in good part on our highly successful 2007-08 season in which the Packers hosted the NFC Championship against the Giants, the team rewarded Mike McCarthy with a five-year, $20 million extension and general manager Ted Thompson with a five-year, $10 million extension. And in November 2009 Favre's stellar play hastened an extension for Brad Childress through 2013 averaging more than $4 million a year. Brett has made a lot of money for himself and many others over the years.
And so the story continues Sunday night, the divorced couple meeting for the third time, with hurt feelings and $100 million as part of the past.
NFL to lose $1 billion in lockout?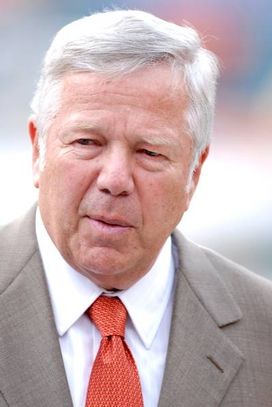 ICONKraft is now optimistic about a labor deal.
It is interesting that this a report dealing with potential losses in a potential lockout came out – in the Wall Street Journal, no less – at the same time as some increasingly optimistic statements about getting a CBA negotiated from Patriots owner Robert Kraft and Jets owner Woody Johnson.
The NFL manages its message as well as anyone, and here they are taking a page from the NFLPA in fighting for the hearts and minds of the fans and media. Towards that end, both sides have launched web sites (sounds familiar) giving their spin on the state of football and potentially no football in 2011. In the battle of URLs, the NFL has nfllabor.com and the NFLPA now has secured the domain name nfllockout.com
Both sides want the message to the public to be that if there is no football in 2011, it's the other side's fault, not theirs.
On the union side, they constantly point to the facts that: the NFL has (1) negotiated broadcast contracts that pay through 2011 with or without football, providing a fund to operate; (2) hired attorney Bob Batterman, who guided the NHL through its 2004 lockout, to advise them; (3) refused to "show its books" in this age of financial transparency; and (4) structured league and team employee contracts with reductions and/or layoffs for a potential lockout.
Now the league is fighting back a bit. It is now news about how much money they would lose if there were no football next year, but it is strategic to get that message out. Of course, sponsors and vendors need time to activate their campaigns, so that any uncertainty can result in potential lost revenue for the league. The NFL wants that message spun as it is because the players won't make a deal that it is happening.
It is the union, they say, that is going around to all the teams receiving decertification votes, thus strategizing for a lockout. And it is the union, not them, trying to negotiate through the media, not directly.
The cat and mouse game continues without signs of resolution, but it is early. Ultimately I think a deal will get done, as the stakes are too high for it not to. The question is what deal will NFLPA chief DeMaurice Smith -- who is simply playing goalie trying to protect the deal he already has -- will accept.
Ultimately, the deal will be based on the last Cap number from 2009 -- $123 million, or $128 million with the CAM (cash adjustment mechanism) adjustment. Smith cannot accept a lower starting point and will probably accept small increases going forward, thus being able to tell his players he was able to protect and increase what they had after the league threatened an 18% rollback. Stay tuned.
Follow me on Twitter at adbrandt.