December 17, 2010 -
Andrew Brandt
Friday new$ and note$
Drew dealing behind the scenes
Through the use of two of his high-profile clients offering another a platform, ubiquitous agent Drew Rosenhaus was behind the scenes working his angles once again.
Eagles wide receiver and 165 lb. turbo rocket DeSean Jackson appeared on the Versus network "T.Ocho show", featuring, of course, Terrell Owens and Chad Ochocinco. The program presumably gives their opinionated takes on all things (I have not seen it). With Jackson as a guest, the topic turned to (surprise) Jackson's contract situation, as he is now finishing the third year of his four-year rookie contract.
Given the national stage, Jackson said to Owens, whose own one-year deal is set to expire: "T.O., man, I'm gonna set the bar for you, man. I'm gonna try to get the most I can and I'm gonna set it high for you and I'm gonna set it high for everybody else, too, so it's a good look, man. They gonna have to do something, man, because I'm out there, they way I'm putting it in, hey, something gotta happen baby."
The interchange gave us a peek at what players talk about all the time yet few see it publicly: getting paid. More than anyone knows, the subject consumes players either up for contract and causes feelings of disrespect that they are not negotiating one to the level they think.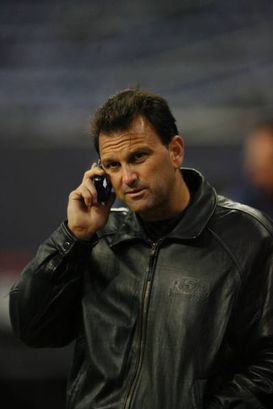 Drew is always working the angles.
And behind all of this was Drew Rosenhaus, agent to Owens, Ochocinco and Jackson. Rosenhaus has been publicly silent about Jackson's contract situation, but quietly active.
NFL teams very much like dealing with Drew when he has a client that needs a contract. He is an efficient and quick dealmaker that will not hold up an agreement (Drew and I negotiated LeSean McCoy's contract with the Eagles in a couple of hours over breakfast at a diner in South Philadelphia) .
The difficulty with Drew is when he has a client that doesn't need a new contract but rather feels he deserves one earlier than the team does. That is where Drew can become a pebble in the shoe of NFL teams.
Without him saying a word, two of Rosenhaus's other client inserted Jackson's contract in the national debate.
Rookie contracts a problem? Only for a few
Speaking of Jackson's contract, the "rookie salary" problem in the NFL is not really all that it's cracked up to be. Jackson and the Chiefs' Jamaal Charles – just extended from his rookie deal -- are interesting examples.
As discussed in my primer on the CBA negotiations, a key issue is the imposition of a more restrictive pay system for NFL rookies. With no one advocating on their behalf besides player agents, rookies will be served up for sacrifice. Management thinks they make too much; veteran players think they make too much.
But do they? Certainly, top picks such as JaMarcus Russell, Matthew Stafford, and Sam Bradford contain eye-popping numbers. However, beyond the top 25 or so picks of a 250 pick Draft, most of the contracts represent reasonable and cheap labor costs for NFL teams.
Jackson and Charles were second and third round picks in the 2008 Draft, respectively. Jackson's guarantee was $1.744 million; Charles' signing bonus was $600,000. Both had salaries of $470,000 this year. Jackson has a year left at $560,000; Charles' contract would have been up next month.
For these wages, Jackson is 7th in the NFL in receiving yards and leads the lead with a stunning 23-yards per catch average. Charles is 3rd in the NFL in rushing yards and yards per game, ahead of former first-round picks and superstars Chris Johnson and Adrian Peterson. Charles also had 1,120 yards in 2009 with a 5.9 average yards per carry. Last year he was making $385,000.
Having players like Jackson and Charles producing at the highest level has given the Eagles and Chiefs great value for their dollar and tremendous benefit to their bargain.
In negotiating a change to the rookie pay system, the NFL may want to be careful what it wishes for.
Follow me on Twitter at adbrandt.