September 02, 2011 -
Barry Dorey
Green Titan
Just as I never believed the gloom and doom about the NFL-NFLPA battle leaking into the regular season, I never believed the same forecast about the Chris Johnson negotiations. There was a deal to be made and the deadline of the impending season would make it happen. I discussed the negotiations and the potential outcome here.
The shelf life of a running back is shorter than any other position. Johnson knew he had to get a second contract as soon as he can and the only leverage he had was withholding his services.
The Titans were willing but wanted the deal to reflect the remaining years left on the contract. Hence, the focus of analysis and discussion of the negotiations: "new money."
New Money
For a contract extension with a player who is not a free agent, the team is essentially replacing the existing contract – and its remaining year(s) – with a new one.
The remaining contract value from the pre-existing contract is "old money." The value negotiated above and beyond the pre-existing contract is "new money."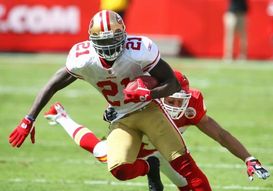 ICONGore received $21 million of new money.
As an example, this week the 49ers' Frank Gore signed a three-year extension for $21 million more than the existing $4.9 million (and one year) he had remaining on his contract. Taking into account "old money," Gore's deal is five years for about $26 million, or $5.2 million average per year (APY). A "new money" evaluation, however, is $21 million over three years, or $7 million APY.
Unique circumstances
Unlike most of the extensions for top players, Johnson did not have either (1) substantial money, or (2) only one year remaining on his contract. He had two years left – 2011 and 2012 – for a total of $2.65 million (assuming earning of escalators, for which he was on track).
As a quick aside, it is interesting that the CBA negotiations that drastically reduced money to top picks did not address the more prevalent issue of lower first-round picks like Johnson – and all players drafted below the first round – being underpaid in their later years of the contract.
The Titans and Johnson finally worked out the following deal:
2011: $13 million
Johnson receives a $10 million signing bonus and a $3 million fully guaranteed salary (Cap number of prorated bonus - $2 million - plus salary for $5 million).
2012: $8 million guaranteed
2013: $10 million ($9 million guaranteed)
In both years, the guarantee – like so many deals these days – is for injury only until the waiver period of the applicable year, when it converts to a full skill and injury guarantee. This allows the team to refrain from funding the amounts until that year.
Thus, the three-year number is $31 million with $30 million guaranteed.
2014: $8 million
2015: $8 million
2016: $9 million ($2 million March roster bonus, plus a $7 million salary)
Upside/Downside
There is an escalator of $2 million for 2016 if Johnson rushes for 2000 yards in any one year or 1400 yards in any two years between 2011-2015.
The contract also reduces by $250,000 in any year Johnson does not participate in 30 of the 36 offseason workouts scheduled by the Titans.
Total value
Thus, the deal is for six years and $56 million, for $9.3 million APY. However, the "new money" of the deal – taking the six years and $56 million and subtracting two years and the $2.65 million Johnson has remaining – gives Johnson "new money" of $53.35 million over four years, or an eye-catching APY of $13.325 million.
The highest previous running back averages were DeAngelo Williams and Steven Jackson at $8.62 million APY (Jackson was, like Johnson, an extension of an existing contract). Thus, as Johnson wanted, the Titans have allowed him to zoom past the running back market by a substantial margin.
Proper valuation
The NFL Players Association, which provides agents and players contract information for negotiation purposes, values the deals in terms "new money." Teams don't care as much about the public presentation of the contract – they allow agents and players to puff the deal as they wish – but want to know they are getting "value" or "credit" for extending a player with existing years remaining.
One further note: Franchise Tags are not valued in this manner. Thus, deals for Peyton Manning, Logan Mankins, David Harris, Lamar Woodley – and now Michael Vick – are valued not in "new money" with the tag number given no regard, viewed merely as a placeholder until the new deal arrives.
What about Adrian?
In contrast to Johnson, Adrian Peterson has one year left on his contract with the Vikings at a large number of $10.7 million (Peterson, unlike Johnson, is the beneficiary of a huge escalator in the final year of a deal for a top draft pick).
Peterson's new deal – whenever it is negotiated – will have a different discussion of "new money" than Johnson. Were Peterson to do the exact same deal as Johnson tomorrow, Johnson would have $8 million more of "new money" in the deal than Peterson. Obviously, Peterson's agents know that and so will the Vikings.
The Titanic negotiation, like all negotiations, has come to a resolution. And Johnson will probably run for 120 yards next Sunday. So much for training camp....
Follow me on Twitter at adbrandt.