December 15, 2011 -
Andrew Brandt
Head Games
Last Thursday evening we witnessed another violent hit from Steelers' linebacker James Harrison, this one levied on Browns' quarterback Colt McCoy. This play was followed by some debatable sideline procedures by the Browns' medical and coaching staff. Underlying McCoy's specific situation, however, lurk more global issues. Let's examine:
Independent sideline neurologists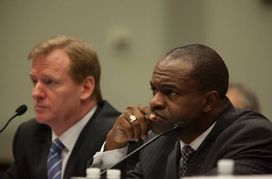 ICONGoodell and Smith have appeared before Congress regarding concussions.
After facing intense scrutiny from Congress in 2009 – and being compared to (gasp!) the tobacco industry – the NFL instituted a new return-to-play policy. Both a team physician and an independent neurologist must clear players removed from a game/practice after sustaining a head injury before returning to football activities.
The policy, however, requires that a player actually be diagnosed with a head injury. Therein lies the problem: during the heat and emotion of the game, players are reluctant to be forthright with medical staff. The desire to return to the field – from players and sometime coaches as well – can prove overwhelming, especially mixed into the flurry of activity that takes place on an NFL sideline. I saw this in my time in Green Bay in a couple instances with Brett Favre.
Furthermore, the set of questions that a team's medical staff administers – the Sports Concussion Assessment Tool – is merely advisory and teams are not mandated to use it. In McCoy's case, it was not administered until the morning after the game.
NFLPA executive committee member Scott Fujita – a teammate of McCoy's – has advocated the use of independent neurologists on the sidelines. It is not known whether this possibility was discussed during the recent collective bargaining negotiations; it has not implemented.
NFL response
In the wake of the McCoy incident, league and union medical officials met Tuesday to determine whether the Browns followed appropriate protocol. Under the new CBA, the NFLPA has authority to make "surprise visits" to club facilities to review health and safety procedures and may also file grievances when warranted.
Commissioner Roger Goodell and the NFL's committee on head, neck and spine injuries will review the union's findings. The upshot of this is that we may see the implementation of an independent neurologist on team sidelines at the start of the 2012 season.
The NFL has ramped up its player safety enforcement and discipline– James Harrison can attest to that – but can and should do more to protect its players from others and, often, from themselves. The league also remains cognizant of the potential for liability. Speaking of which, after engaging in a summer of courtroom football, the NFL cannot seem to shed itself from the courtroom and again finds itself embroiled in litigation.