June 13, 2011 -
Andrew Brandt
Hope floats?
First, a word about the new NBA champion Dallas Mavericks and their -- pardon the pun -- maverick owner Mark Cuban. I would think that not only will the NBA Players be mentioning Cuban in their labor meetings -- as an owner more concerned with investing in players than profitability numbers -- but that NFL Players will be noting him and his team's success. With all the talk of "sustainable models" and "shared sacrifice", Cuban represents an owner that has decided that a few million spared for profit margins is less satisfying to him than a few more million spent on players and amenities, ledgers be damned. I sense his name will come up in the NFL labor meetings this week. Speaking of those meetings...
Optimism from the not-so-secret meetings
The ongoing confidential discussions between NFL Owners and Players represent good news for the near-term continuation of the NFL. The decision makers are there – owners such as Jerry Richardson and John Mara and influential players such as Jeff Saturday and Mike Vrabel – along with the leaders and faces of each side, Commissioner Roger Goodell and NFLPA chief DeMaurice Smith. Optimism appears to be coming from the meeting but we have heard that before. The key for the meetings is to not have a hardening of negative feelings as we had in March. There are a lot of moving parts here and the two sides need to stay on task without losing sight of the goal for both sides: a full slate in 2011.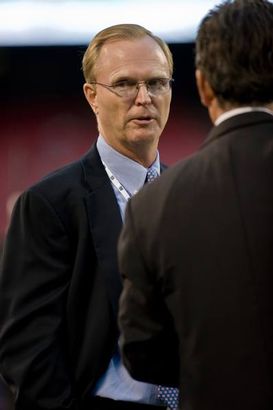 ICONDecision-makers such as Mara are now active in negotiations.
My sense from the tone of the meetings is that the sides have decided to leave Courtroom football for the time being, if not for good. They have asked the lawyers to stand down – Mara, Smith and mediator Arthur Boylan are attorneys but not acting in that role here – and the focus has turned back to the issues at hand: the revenue split, rookie compensation, enhanced season, offseason issues, bonus recovery, drug testing, etc. They are no longer discussing motions, stays, injunctions, etc. – although those are still in play – but the topics that need to be hammered out to achieve labor peace.
Of course, all bargaining points flow into the primary concern of sharing billions of dollars of revenue that flow into the NFL. The sides are battling over two major sub-issues here:
(1) The split: Players want half of all incoming monies; the Owners' s position is that Players currently receive half -- which is what 59% of their prescribed share of total revenues minus the $1 billion credit to the Owners comes to -- in a system headed for trouble. Owners have offered Players roughly 45%-47% of all revenues to be shared with the Players. This appears to be a gap that can be bridged, with prescribed percentages going forward.
(2) The upside: Players were incensed in March when the Owners did not provide complete sharing of revenues but rather a formula that restricted the Players' ability to "true-up" their full share of the total revenues. Revenues for the NFL now are just north of $9 billion, but with new television and digital rights deals ahead and rights fees soaring (see Olympics and Comcast), revenues could rise past $20 billion by the end of this CBA. Players want to ensure that whatever percentage they agree on, that number is not "capped" in terms of upside.
The "jovial" dinner
The New York Post reported what may have been the most significant event from the meetings: a private dinner between Goodell and Smith, described as "jovial." Since Smith's election in 2009, he and Goodell have had nowhere near the relationship that predecessors Gene Upshaw and Paul Tagliabue had. Smith promised the players upon election as NFLPA Executive Director that he would not be "chummy" with the Commissioner and has taken a more aggressive posture and his speeches and sound bites have frustrated Goodell and infuriated owners.
Labor peace requries an honest and trusting relationship between Goodell and Smith. Negotiations can be emotional and raw; trust is needed to soothe those feelings as a cushion to fall back on when things get frenzied.
Perhaps this genial dinner may have laid a foundation for building common ground.
The motion to dismiss
The Owners' answer to the initial complaint of Brady v. NFL was due last week. Instead, they filed a motion to dismiss, saying the Players have no claim and judicial resources should not be wasted.
I would put this motion in the "it doesn't hurt to ask" category. It also delays the process -- the hearing on the motion is not until August 29th -- and time is not on the Players' side. Speaking of timing,
The Doty ruling
Still pending is an expected windfall for Players when Judge David Doty rules on the Owners' negotiations with television networks regarding lockout funding. Doty is expected to hand the Players a large damage award that could be a financial safe haven if paychecks are missed.
Doty may be holding his ruling to see what comes of the current negotiations, as it could derail the momentum of the talks. Even with a large award, the Players' problem is timing. Doty's ruling will be appealed to the Eighth Circuit; with tight schedules and summer vacations ahead, it may not be heard until fall. Doty represents yet another judge indicating he would rather have the parties make a deal instead of inserting his view into it.
Raheem's "whoops" comment
On a recent radio interview, Buccanneers coach Raheem Morris let it slip out that he sees and talks to his players during this no-contact period. Morris was probably quickly got a couple phone calls from management and/or league officials.
The no-contact rule is frustrating to coaches (although many players don't mind being off limits in the offseason). To think that there is not contact going on between coaches and players is na