September 20, 2011 -
Andrew Brandt
Injury Ill$
Injuries are the bane of the NFL teams' – and players' – existence. Just as the mortality rate of NFL careers is 100% – no one plays forever – the injury rate for NFL players is 100%. Everyone gets hurt.
I am often asked to describe a facet of working in the NFL that people may not realize. I answer that it is the increasing amount of time that is spent dealing with the medical side of football. Injury discussions dominate front office meetings each week in both assessing the damage from the previous game and forecasting availability for the week ahead.
Football is not a contact sport; it is a collision sport. Having seen the triage following the games, this fact is clear. Let's look at a few situations from the first couple of weeks and the financial impact:
Chief concern$
After losing promising tight end Tony Moeaki during the preseason, the Chiefs have now lost their top young offensive and defensive players for the season. Both safety Eric Berry and running back Jamaal Charles are out for the season, and both signed contracts within the past eighteen months.
Their combined total contract value is $88 million – $60 million for Berry, the league's highest-paid safety, and $28 million for Charles.
Their combined guarantee total is $44 million – $34 million for Berry and $10 million for Charles.
Their combined salary total is $6.6 million – $3.25 million for Berry and $3.35 million for Charles. That amount is added to whatever costs they must incur for replacement players.
The Chiefs have a lot of issues on the field right now but, unfortunately for them, they have two of their major investments out for the year as casualties of this physical game.
Carolina blue$
After standing on the spending sidelines in 2010, no team has been more active in 2011 spending than the Carolina Panthers. Owner Jerry Richardson, one of the NFL owners most involved in the negotiation of the new CBA, is jumping into this new agreement with both feet.
The vast majority of the Panthers' spending have been on their own players rather than free agents from other teams. Using the continued Cap loophole of proration of signing bonuses, they are spending over $180 million while operating under a $120 million Cap!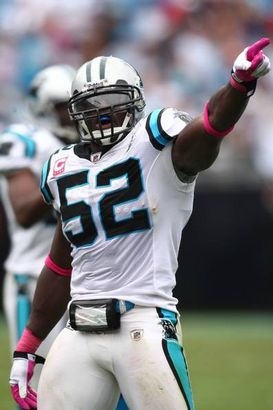 ICONBeason was lost for the season in Week One.
Two of their recent purchases are now on the injury shelf. After losing linebacker Jon Beason – who signed a $51 million contract with a $20 million signing bonus in training camp – with a torn Achilles' tendon, they have now lost linebacker Thomas Davis with a torn ACL (for the third season in a row).
Davis signed a five-year $36.5 million contract on July 29th that will pay him $8 million this year ($7 million signing bonus and $1 million salary). Davis also has an $8 million option bonus next March for the Panthers to continue the contract, similar to the option language in the contract of Peyton Manning.
With Davis's injury history it seems likely the Panthers will not exercise that option, leaving Davis with an $8 million parting gift for the 2011 season and an injury protection benefit of $1 million in 2012.
Packer D