August 20, 2010 -
Andrew Brandt
Inside the Revis talks: Part II
Continuing our look at the contentious negotiations between the Jets and Darrelle Revis, here is another look behind the curtain.
With the emotional nature of sports, people take sides in a dispute such as this. Many say "Just pay him!" and point to the fact teams can release players at any time and Revis's paltry $1 million 2010 salary. Others comment that the Jets should make Revis play for the contract he signed, a six-year deal that he is halfway through.
Although these decisions involve people that work closely together, this is business, not personal.
The Jets have to make a business decision regarding Revis and the impact on the rest of the team. Revis has to make a business decision as to the impact of fines, sitting out, losing a credit towards free agency, and $60,000 per regular season game in pay loss. Although there are personal feelings of enmity between agent Neil Schwartz and the Jets' Mike Tannenbaum, it's not about that. It's about business.
The $1 million in 2010
Revis's $1 million salary this year needs to be upgraded yet is a snapshot of his compensation. Players and agents make arguments about their salary rank for a specific year. I dealt with this at length with the Packers and with the Eagles addressing Sheldon Brown's discontent last year. What the players and the agents often selectively omit is the significant bonus money received prior to the year in question.
In 2007, as a rookie, Revis earned $5.32 million. And over the last three years, he has earned $15 million. And, due to the fact he received a six-year deal in 2007, unlike the five-year deals around him, he received – as the 14th pick – the sixth-highest guaranteed money of all 2007 rookies. Those facts are sometimes lost in the focus on the present year.
The cornerback market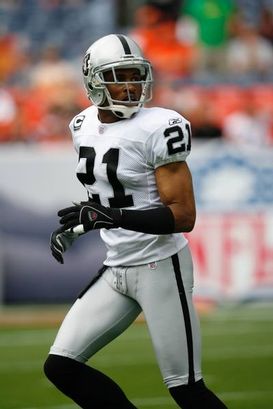 ICONAsomugha set a new market for cornerbacks.
The Raiders jumped the shark with the deal last year for Nnamdi Asomugha, launching past the top-of-market corner deals with a three-year, $45.3 million deal. It is really a two-year deal, however. To keep him past this season, the Raiders must pay Asomugha the Franchise tag number for a quarterback, an amount to be well over $20 million. Otherwise, he will become a free agent, which is the likely scenario. Thus, his contract not only rocketed past the existing cornerback market but allows Asomugha another bite at free agency at age 29; it may be the most player-friendly contract in the NFL.
For purposes of the Revis negotiation, Asomugha's fully guaranteed money and average of over $15 million is relevant but it also creates an opportunity for the cornerback market to be revalued when he will likely be a free agent next year.
Jets precedent
For the Jets, if they don't have Revis, they play with what they have. They do have two first-round picks, Antonio Cromartie (2006) and Kyle Wilson (2010) at the position. Sure, it is better with Revis, but how much better?
The Jets also have to answer to a bigger audience than Darrelle Revis. These decisions are never about one player; they are about the entire locker room, some watching intently how the front office handles Revis. The Jets know that however they reward Revis will be precedent for their negotiations with Nick Mangold, David Harris and others. They have recently completed a deal for D'Brickashaw Ferguson with a "rolling guarantee" structure.
The Jets are willing to reward Revis at the top of the corner market – save the Raiders outlier deal with Asomugha -- but want to be consistent with their structure from the Ferguson deal, which requires that the player make it to February to receive the full benefit of his guaranteed money.
Teams have to stand for something in the way they operate and it is hard for a team to make exceptions for players -- no matter what caliber of player -- and look the rest of their players in the eye with different terms. I've been there.
Revis response
Revis and his camp are adamant that the "rolling guarantee" structure – not fully guaranteed money until February -- will not work. Therefore, taking anything less than a "full guarantee" structure, with a significant signing bonus and/or second signing bonus next year (the structure of the Patrick Willis deal with the 49ers), will be a "loss" in their mind.
As to the Jets' precedent, Revis and his camp believe they are above that. They believe that despite what structure Ferguson received and despite what structure that Mangold and Harris may receive, he is different. Like the unique treatment that Brett Favre receives in Minnesota, their stance is that Revis is such a game-changing player that precedent should not count with him.
As discussed earlier, the agents for Revis – Neil Schwartz and Jonathan Feinsod – believe they have one of if not the -- top player(s) in football, not one of the top cornerbacks in football. They are not looking at any of the recent deals done for other positions, not even that of Asomugha. They are looking at deals to come and projecting what they will be for Peyton Manning, Tom Brady and Drew Brees. That is their comparable market.
The goal of Revis and his agents is to cause enough angst and anxiety in the Jets camp to cause more of an impulsive response than has happened so far.
The money
Pay no attention to numbers bandied about of over $130 million in total value of the deal. That number is just for headlines. The real value of the deal is measured in guaranteed money, structure and three-year value, as that is considered the most relevant and applicable time frame in judging deals.
Some of the recent three-year values for top non-quarterback deals have been the following: Nnamdi Asomugha ($45.3 million), DeMarcus Ware ($45 million), Terrell Suggs ($43.4 million), Julius Peppers ($42.3 million) and old friend Albert Haynesworth ($41 million).
Revis thinks he is deserving of more than any of these numbers, looking in the range of over $65 million guaranteed over the next four years. Although he and his agents may believe he is worth it, that will not happen, especially for a player three years from free agency.
What will happen?
My sense is nothing will play out until we are on the doorstep to the start of the season and the real checks start coming in. At that time, there will be a true test of wills to see where the Jets will go on the contract and how far Revis will take this.
Revis and his camp appear convinced that as the team enters the season and its pass defense falters, his leverage will increase towards the deal he wants. That is expected; it is the nature of all players to think that. A question that should be asked as well is what if the season begins and the Jets are doing quite well without Revis? This negotiation should not be about what happens in the first game or two of the 2010 season.
A short-term solution, which allows Revis another bite at the free agency apple in a couple of years seems like a reasonable conclusion to this standoff. At that time, when the Raiders have passed on an option for Asomugha, the corner market may be clearer and the labor situation resolved, there may be a climate to understand what the true deal should be. Now, who knows?
This one is hard to predict, but I would anticipate Revis back on the field – with a new deal -- in the first three weeks of the season. The better question will be what type of new deal. As with his rookie contract, I suspect it will contain some elements of the structure he wants and some that the Jets want. My strong sense, though, is that it will be a relatively short-term deal – two or three years – that is almost fully guaranteed and allow for another negotiation at that time.
When the soap opera will begin anew..
Follow me on Twitter at adbrandt.
Click here to purchase the Total Access Pass/ Fantasy Draft Guide from the NFP and receive a free Deuce Brand watch while supplies last.