August 17, 2010 -
Andrew Brandt
Inside the Revis talks
The Darrelle Revis holdout and its surrounding drama illustrate a couple of realities of negotiations that I learned the hard way in my years as an agent and a team executive.
Players have selective hearing
This negotiation started in the moments following the AFC Championship game in January when, in the afterglow of a wonderful season, Jets management made effusive comments to Revis about his importance to the team, the need for a contract upgrade and him becoming a transcendent star in the biggest market in the country.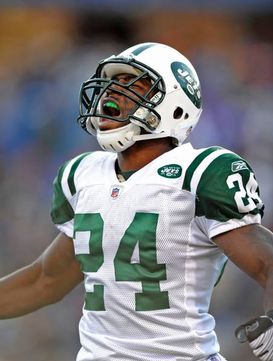 ICONRevis took the Jets' words to heart.
Revis and his agents, Neil Schwartz and Jonathan Feinsod, took those words to heart. They have held dearly to that conversation to make the Jets match those words with financial commitment.
Of course, coaches and team executives always say nice things about their players; it is part of the job. To Revis, though, this was beyond coachspeak. In their minds, it was the opening salvo on what they expected to be a massive contract extension for a game-changing player.
History matters
Sports, and football in particular, is a very small world. Teams negotiate with a relatively small number of agents over and over again, sometimes with leverage and sometimes without. It's a long horse race and relationships matter.
Applying this principle to the Revis situation, Schwartz and Feinsod have represented players on the Jets in recent years -- Pete Kendall and Chris Baker -- who felt that they weren't being treated honestly in their time with the Jets.
Further, it comes as no surprise that the 2007 rookie negotiations between the club and Revis resulted in a holdout, with Revis not signing until August 15 of that year.
The rookie contract
I remember the summer of 2007 negotiating the Packers' pick two slots away from Revis, Justin Harrell (no snickers, please). I knew that Mike Tannenbaum of the Jets, a longtime colleague, was insisting on a six-year deal for Revis but that we would not be able to help his cause. We would raise the length as an issue but eventually relent in exchange for other terms.
Not only could I not help Mike but also none of the picks around us were demanding six years. Surrounding picks such as Marshawn Lynch and the Bills, Adam Carriker and the Rams and Lawrence Timmons of the Steelers all went for five years. Tannenbaum was carrying the sword by himself on that one. And succeeded.
The contract was an intricate one, a four-year deal with a "buyback" bonus for years five and six of $100 – yes, $100 – and then guaranteeing those two years for a price of $15.7 million. Those years – 2011 and 2012 – seem very remote now, as Revis appears intent – for the moment -- on not playing 2010.
Revis has made $15 million on his rookie contract entering this year. Although there is much in the media about the scheduled $1 million for 2010, the $15 million paid to Revis for 2007-2009 is a more accurate analysis of his pay since being drafted by the team.
Revis reps
Schwartz and Feinsod – who I have dealt with on several players -- are seasoned and professional agents who are no strangers to difficult negotiations, now experiencing another in San Diego with Vincent Jackson.
Like many agents, they have a high -- some team executives would say inflated -- opinion of the worth of players they represent and can be unwavering in negotiations on their offers. Here, they feel Revis is a once-in-a-generation player and are emboldened by Jets' management and coaches fawning over Revis.
I experienced some of this on a lesser level with a player named Vonnie Holliday with the Packers. We had a fundamental difference in value concerning Holliday. After weeks of difficult negotiations, we were unable to come to agreement. Holliday left the Packers to sign with the Chiefs in free agency, although switching agents in the process to Schwartz's cousin (it's a tough business). I was later called as a witness in arbitration regarding fees owed to Schwartz and Feinsod from Holliday.
Frustration game
The parties continue to frustrate each other with their proposals and positions on the value of Revis, with no movement and no end in sight. The Jets are willing to reward the player and are willing to tear up the remaining three years of the deal. That is the easy part. The harder part is how much and in what structure.
Tomorrow I will go into some of the structural issues in play and particular leverage points for each side of the negotiation.
Follow me on Twitter at adbrandt.