March 12, 2012 -
Andrew Brandt
Jets' Gesture
In the NFL, contracts are often not what they appear to be. This maxim was the case two years ago in the extension between the Redskins and Donovan McNabb and appears to be the case with the three-year extension signed Friday night between the Jets and quarterback Mark Sanchez. The signing put to rest the team's pursuit of Peyton Manning; a pursuit I am told that was lukewarm at best.
Reports immediately surfaced that Sanchez had a guarantee level in his new contract of $20.5 million, and that the extension was worth a total value of $58. 25 million. Well, not exactly. While those numbers are technically acccurate, they are a bit of a stretch. Let's examine.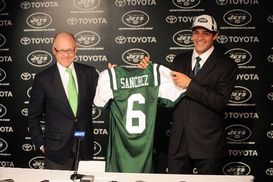 Sanchez's rookie contract had two years remaining.
Two existing years
Sanchez was the fifth pick in the 2009 NFL Draft, and rewarded with a substantial contract, this prior to the "correction" of top rookie contracts in the new CBA.
That rookie contract had two years remaining, now adjusted in the new extension. Let's look at those two years:
2012
Sanchez was scheduled to make $11.75 million. Sanchez will now make.....$11.75 million.
Instead of earning the entire amount in salary, Sanchez will now receive an $8 million signing bonus and a $3.25 million guaranteed salary, along with an offseason workout bonus of $500,000.
The signing bonus, as per Cap treatement, is prorated over the five remaining years of the contract at $1.6 million per year, reducing the $11.75 million Cap number to $5.35 million, a savings of $6.4 million to the Jets' Cap.
The Jets were not going to release Mark Sanchez, making the guarantee a nice gesture, but one with little meaning. In other words, Sanchez makes no new money in 2012 than he was already scheduled to make.
2013
Sanchez was scheduled to make a nonguaranteed $6 million. He will now make a guaranteed $8.25 million plus a $500,000 workout bonus for a total of $8.75 million – a $2.75 million increase.
This guarantee carries a bit more weight than the 2012 guarantee, although Sanchez would need a truly poor season for the Jets to shed him before next season. And there is no "offset" in the guarantee, meaning that if the Jets release Sanchez, they will owe him despite what he makes from another club. The Jets have made an $8.25 million bet that Sanchez will be their quarterback in 2013.
Thus, for 2012-2013, Sanchez will receive $20.5 million guaranteed compared to $17.75 million not guaranteed, a raise of $2.75 million. The guarantee this year has little to no value. As to next year, there is some value to it, although not great.
2014-2016
For adding the guarantees and $2.75 million to Sanchez's compensation over the next two years, the Jets also are able to attach three nonguaranteed years to the contract, ensuring he will be a Jet – if they so desire – through 2016. The years are as follows:
Salary Roster Bonus Workout Bonus
2014 $9 million $2 million $500,000
2015 $12.5 million $1 million $500,000
2016 $10.75 million $1 million $500,000
The roster bonuses are due the 15th day of the League Year for each year, giving the Jets time to trade or release Sanchez for two weeks prior to the money becoming due.
The escalator
The escalator has been reported as a potential of $10 million. That is correct, although the Jets and Sanchez would have to win four Super Bowls for him to receive that.
The escalator adds $500,000 to Sanchez's subsequent year salary if he reaches the Super Bowl in any year. This part of the escalator does not "stack" in future years, simply paid as an add-on to the subsequent year.
In the event Sanchez wins the Super Bowl in any year – while playing at least 60% of the offensive plays – it would add $1 million to all of the remaining years of the contract, a number that "stacks" to add a maximum of $10 million if Sanchez were to win the next four Super Bowls. Jets fans can only hope…
The takeaway
The Jets professed their "like" for Sanchez – this contract does not profess "love" – with limited risk to them.
To be fair, there is value to Sanchez in having 2013 guaranteed but, in my view, not enough to add three prime years of his career to the contract. Perhaps, after reports of the Jets' toxic locker room and the passing flirtation with Manning, Sanchez felt that this kind of deal at this particular time was the right tonic entering the offseason.
With many things in life – especially NFL contracts – the truth is not always what it appears to be.
Follow me on Twitter at adbrandt