October 06, 2011 -
Barry Dorey
Jordy Jumps In
Negotiations turn on two interrelated things: (1) leverage, and (2) options. In any negotiation, the side with more options usually can impose its will on the side with fewer or no options, thereby creating leverage.
Having spent a decade on each side of the negotiating table in football, I am well aware that the greatest leverage point for a player is free agency: when a player has multiple options and an ability to shop his services to the highest bidder. That is when all research and salary data goes out the window and the market is at the whim of whatever one team is willing to pay.
Change the Leverage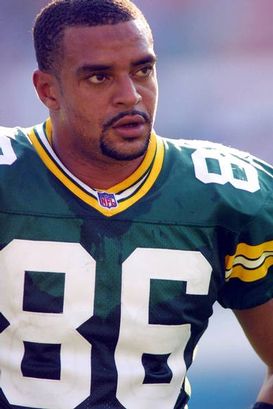 ICONFreeman used maximum leverage with the Packers.
When I arrived at the Packers in 1999, I noticed some oversized contracts due to players having reached their maximum leverage point, forcing the team to pay the asking price or lose the player to free agency. Players such as Dorsey Levens and Antonio Freeman, who both became good friends, took advantage of timing, having career years in the final year of their contracts, forcing the Packers to pay dearly to retain them.
Operating within a Cap system in a small market that can be geographically undesirable to some, I had to figure out a way to work within the system while retaining players without paying what I called "retail." As a front office, we had to identify ascending young players early in their careers and sign them to extensions long before they reached their maximum leverage. We could then retain more players and not lose them due to the leverage shifting entirely to them. Some of the players that were extended in this manner included Ahman Green, Mark Tauscher, Mike McKenzie, Donald Driver, Scott Wells and more.
Of course not all players were interested in "early deals." Some preferred to risk possible injury and get closer to the pot of gold that free agency may bring. Players such as Chad Clifton, Vonnie Holliday and Aaron Kampman resisted overtures early in their final contract years to try to increase their leverage towards free agency, with mixed results.
This week the Packers continued this long tradition of locking up young core players with a three-year extension for a player in the final year of his contract, wide receiver Jordy Nelson.
Nelson's Numbers
Nelson was another in a line of second-round wide receivers for the Packers. During my time there, we drafted Robert Ferguson, Terrence Murphy, and Greg Jennings all in the second round (and James Jones in the third). Nelson joined the group in 2008.
Nelson's four-year rookie contract was set to expire at the end of this season. The Packers approached him with a contract that – for an ascending young receiver – reflected a discounted number compared to what he could have received in free agency.
Nelson's four-year deal – three-year extension – is worth just under $14 million with $5 million guaranteed. Instead of making around $600,000 this year, he will now make over $4 million. He will make $2.5 million in 2012, $2.7 million in 2013, and $2.55 million in 2014. And, as we started doing in Green Bay in 2006, there are significant workout bonuses ($250,000 per year) and 45-man active per game roster bonuses ($200,000 per year) in the deal.
The Choice
Nelson had to make a choice that many players around the league make early into the final year of their contract: (1) take what their team is offering, or (2) wait and see what will be behind Door Number 2 in March. Like the old show "Let's make a Deal," this is the choice that players have.
My sense is that Nelson looked at the situation and decided the grass may not be greener beyond Lambeau Field. The career longevity of Donald Driver could be limited – although I've learned never to write off Donald; he is a physical marvel. The team and its quarterback are the best ones going right now and poised for sustained success. Nelson has put roots down in the community, which certainly helped the Packers case. The fan base is second to none. And, as I know firsthand, the organization treats its players extremely well. All of these things probably went into Nelson's choice.
The Risk
Nelson's agent Vann McElroy has certainly apprised him of the potential risk and the fact the market will pass him by at some point. Nelson will see the numbers of other receiver deals pop off the page in March (players all read and talk about other players' contracts) and potentially wonder if he made the right decision.
I went through this with Driver, who happily signed an extension one November and then in March saw Peerless Price, a decidedly inferior player, sign with the Falcons for decidedly more than Donald. Donald realized he had committed months before but was naturally upset at seeing those numbers. And, of course, the whisper crew of other agents and players telling Donald he didn't get enough money was in full throat.
To Sign or Not to Sign
I always tell players and agents that the choice is theirs but to remember this: when a team has its sights on signing a player, take it very seriously. There are too many players for a team to circle back repeatedly. Teams will move on. I've been on both sides of that scenario.
Free Agency: The Great Unknown
Free agency can bring vast riches and long-term security but it can also be a negative experience. Nelson no doubt saw the experience of his teammate and friend James Jones, a similar player that did not see the market that he had hoped for this summer. Nelson had a front row seat for Jones' experience; that may have contributed as much as anything to taking the deal now, just 12 games away from free agency.
The Packers are happy another core player has agreed to take the sure thing and forego the unknown ahead. Other similar situations are going on around the league as we speak – Wes Welker with the Patriots perhaps – and choices will be made that affect the present and the future of the players and the teams.
Follow me on Twitter at adbrandt.