September 08, 2011 -
Barry Dorey
Leadoff at Lambeau
Garrard's treatment part of larger symptom
First, a note on the Jaguars' release of starting quarterback David Garrard. The transaction and the timing was a shock to many around the NFL. Although the Jaguars deny it, the root of the decision was the root of most decisions: money.
To explain, all vested veterans – players with four or more years of NFL experience –on 53-man rosters as of Saturday at 4pm eastern are entitled to full salary for the 2011 season. This termination pay benefit allows vested players to file for remaining salary if released. Were Garrard on the roster Saturday, his $8 million salary would have been protected. Now he receives no more compensation from Jacksonville.
As to the harshness of this, I just wrote about this. To me, though, this is not a player negotiation issue; it's a union bargaining issue either not addressed or not changed during the recent CBA negotiations. The Jaguars are only the most recent team to treat a player in this manner, in part due to the termination pay issue. There will be more, whether in the next couple of days or next year at this time.
It's here
After the doom and gloom of a lockout that some thought would detrimentally affect the NFL season, it kicks off tonight without a hitch at the place where I officed for nine years, Lambeau Field. The game is as highly anticipated as any, fueled by a football-starved populace eager for the long offseason – and meaningless preseason – to end. Packer and Who Dat Nation now replace decertification and litigation. We're ready, with a couple of interesting storylines about the coach and quarterback for each side.
The coaches
In Green Bay in 2006 we interviewed a number a candidates for the Packers head coaching position. Among them were Wade Phillips, Ron Rivera, and Brad Childress (who was intercepted while boarding a flight from Minneapolis to Green Bay to sign with the Vikings).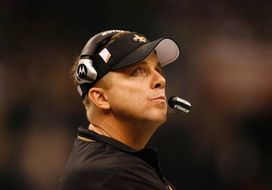 ICONPayton was a finalist to be the Packers coach.
Our two finalists were Mike McCarthy, then the 49ers offensive coordinator, and Sean Payton, then the Cowboys' quarterback coach. Mike had the advantage of being a Packer before when he was part of Ray Rhodes' staff in 1999, and many of us, including Ted Thompson, knew him from that time. He presented himself as a no-nonsense guy from Pittsburgh, true to his roots and not overwhelmed by the magnitude of the position.
Payton was bursting with energy and full of ideas. I knew Sean when he was quarterback coach with the Giants and interested in my client Matt Hasselbeck at the time, and always liked his passion for the game.
Both presented well and emphasized the passing game, with Mike speaking of "working the perimeter," while Sean outlined more of a vertical passing attack.
We chose McCarthy, the Saints chose Payton, and the two have won the past two Super Bowls. Both have earned contracts since – with Payton's latest one coming last week – to put them among the top earning coaches in the league. They are back at Lambeau tonight, where they both interviewed for the same position five years ago.
The quarterbacks
It is striking how franchise-defining moments often happen due to, well, chance.
In 2006 the Chargers, moving ahead with Phillip Rivers, treated Drew Brees – coming off shoulder surgery – with indifference. Brees got the message, and wanted to join the Dolphins.
Miami, however, chose the uncertainty of Daunte Culpepper's knee over that of Brees' shoulder. Brees reluctantly signed a "prove-it" contract with the Saints: a one-year deal with an option to extend for five more years. That contract expires this season with Brees now poised to sign one of the richest contracts in NFL history.
As to Aaron Rodgers, the 49ers opted for Alex Smith with the top pick in the 2005 Draft, leaving Rodgers in free fall as team after team passed on Rodgers (a couple of which had told him directly that they would take him).
In Green Bay, secure with the most durable quarterback in NFL history, we targeted several defensive players, among them DeMarcus Ware, Shawne Merriman, Marcus Spears, Thomas Davis, etc. But when our pick came at 24th overall, there was only one player on our board with a first-round grade: Rodgers.
I reached Aaron and made him wait an agonizing 10-12 minutes -- after already waiting five hours -- while we waited to see if the phone rang with an offer to trade down. It did not and I was finally able to tell Aaron his excruciating wait was over.
What if?
What if the Dolphins wanted Brees? What if the 49ers or any other team in the top 23 picks took Rodgers? What if any other player with a first-round grade was still on the board in Green Bay? What if the phone rang with an offer to trade down for the pick used to take Rodgers?
If any of those questions were answered differently than what transpired, the Saints or Packers may have had far less success. As much as we would like to believe that teams have a firm plan in place, sometimes franchise-defining moments are a result of happenstance and good fortune. That was certainly the case with Brees and Rodgers.
And so they meet tonight at Lambeau…
Follow me on Twitter at adbrandt.