September 23, 2011 -
Andrew Brandt
Lost in Translation
Let's translate a few comments from the past couple of weeks in the NFL in showing what is said is not always what is meant. Thus here is another edition of Lost in Translation:
Deon Grant, on whether he was faking an injury Monday night to try to slow down the Rams offense:
"My whole thing is when do you know if somebody faking an injury?"
You can't prove it; that's my story and I'm sticking to it.
Giants' defensive coordinator Perry Fewell on whether he has coached his defense to faked injuries:
"I can't say I've ever done that and I can't say that I haven't done that".
I've done that.
Randy Moss, on whether he will play in the NFL again:
"I'm done."
I can't believe guys like Stokley have signed and I haven't. Hoping someone calls and makes me undone.
The Bills' Fred Jackson, on his frustration with getting a new contract:
"I'm annoyed by it. I want something done that's fair for myself and the team."
I can put a damper on this positive PR the Bills are getting. Show me the money!
David Garrard's agent, on signing with another team after being released from the Jaguars:
"We're looking for the right fit."
There hasn't been the interest we hoped. The Jaguars need a quarterback…oh wait..
The Patriots public relations staff, explaining Tom Brady's comments about fans getting "lubed up":
"He meant 'stay hydrated, drink a lot of water.'"
Hey, he's Tom Brady, he can say whatever he wants and you're going to find it interesting and likeable.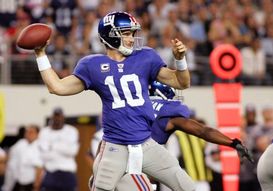 ICONEli says he didn't hear the boos.
Eli Manning, on hearing the boos on Monday night from his home fans:
"I didn't hear any of it. I thought they were booing someone else."
I heard every single boo. Man, you would think a Super Bowl victory would be enough to satisfy these fans.
Colts' president Bill Polian, on Peyton Manning's injury and potential recovery:
"Peyton's at the age now where he recognizes and we recognize that his career is in the homestretch."
Peyton is in the homestretch and we can end the race next March if his neck doesn't heal.
Derrick Mason, tweeting on the profane exchange with Bill Belichick in the documentary on Belichick:
"I'm not the least bit upset with coach messiah excuse me again I mean coach bb."
I'm still mad that coach messiah – I mean coach bb – signed Ochocinco instead of me this year.
Follow me on Twitter at adbrandt