December 22, 2011 -
Barry Dorey
Making a List: best and worst of 2011 contracts
Once the doors to the NFL opened after a draining summer of courtroom football, teams worked in the most compressed time frame they ever had to pursue free agents and stock their rosters. With 15 weeks of football in the books and the holidays quickly approaching, let's look back on a few of the signings in that frenzy – both the bargains and the overpriced items.
Bargains
1. Cam Newton: The new NFL CBA certainly took care of the "overpaid top draft picks problem". While Sam Bradford, the first pick in the 2010 draft, is making $48 million over his first four years in the NFL, Newton – the consensus 2011 Offensive Rookie of the Year – will earn $22 million over his first four years. The Carolina Panthers engaged in some prolific spending when the lockout ended (see below) but their best bargain – by far – was selected in April and signed quickly upon the end of the lockout.
2. Jason Babin: The Eagles brought Babin back – he was with the team in 2009 – for a five-year $28 million deal that only had $5.5 million guaranteed. Now one the most prolific sack specialists in the NFL with 18 sacks and two games left, Babin has shown similar value to fellow sack artists DeMarcus Ware ($40 million guaranteed), Charles Johnson ($36 million guaranteed), and Tamba Hali ($35 million guaranteed).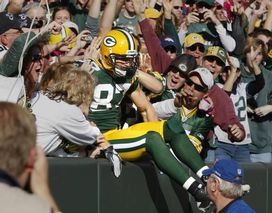 ICONNelson decided to forego more money in free agency to sign with the Packers.
3. Jordy Nelson: Rather than test free agency in March, Nelson, who has grown to love Green Bay, gave the Packers a hometown discount, signing a four-year $14 million deal – certainly a below-market contract for a receiver of his caliber. Nelson is on pace for his first 1,000 yard season, has 10 touchdowns and has played a significant role in the Packers success. With Jermichael Finley a free agent after this season and Greg Jennings a free agent after next, Nelson's role could continue to grow.
4. Stephen Tulloch: A tackling machine on the Lions revamped defense (97 tackles), Tulloch is providing great value on a one-year $3.25 million contract signed this summer. And, best of all for Tulloch, he has the opportunity to test free agency again this upcoming offseason.
5. Willis McGahee: This low risk, high reward signing has paid huge dividends for the Broncos. McGahee signed a three-year $7.5 million contract this offseason. McGahee's success this year – he currently has 990 yards rushing – will become Exhibit A in contract negotiations for running backs reaching the ominous age of 30 (although he is the exception to the rule).
And for the other side of the story...