July 29, 2011 -
Barry Dorey
Making sense of the madness
So many thoughts as this unprecedented time in the NFL unfolds. Here are some that stick out to me:
Patriot Games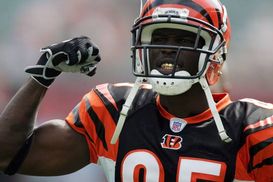 Trading for Chad Ochocinco was one of two big moves the Patriots made on Thursday.
The continued shrewdness of Bill Belichick and the Patriots is impressive. They stockpile draft picks for reasons that now become apparent: flexibility to use them for selected low-risk acquisitions. In acquiring players such as Albert Haynesworth, Chad Ochocinco, or players in the past such as Randy Moss and Corey Dillon, the question I always look for is "At what cost?"
All of these players made tens of millions of dollars from teams prior to being acquired by New England and the risks to the Patriots are nominal. Acquiring players such as these for high picks of high guaranteed sums is scary; acquiring them the way the Patriots have is, at the worst, tolerable and a low risk/high reward potential investment. And I'm still amazed they were able to get a third-round pick for Moss, who hasn't received a sniff in free agency this year.
Nnamdi's gold
It's good to be Nnamdi Asomugha. He could not have picked two better teams to be bidding for his services than the Cowboys and the Jets – unless, of course, his old team the Raiders were involved. Jerry Jones and Rex Ryan are two leaders who relish the thrill of the chase. They will become emotional and competitive in this contest to sign the prize of the 2011 free agent class. And the price tag will soar.
I remember one year in Green Bay when we lost Marco Rivera to the Cowboys. We were in the game when the bidding for the bonus was roughly $3 million. Then Marco attracted the interest of both the Lions and Cowboys. With Marco sitting in the offices of the Lions, Matt Millen and Jerry Jones engaged in a bidding war that left us in the dust. An hour later Marco had a $9 million bonus from the Cowboys. Before heading to Dallas, he stopped back in Green Bay, and we all celebrated his large signing. It was an easy decision for everyone.
Rookie revelations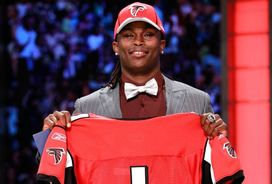 With Julio Jones under contract, the Falcons have already locked up all of their draft picks.
A couple of trends are emerging in the negotiation of rookie contracts. First, they are flowing in fast and furious due to more ease of negotiations. All contracts are four years with – in rounds 3-7 – the fourth-year escalator at a pre-assigned rate ($1.2 million this year, higher later). Further, in the first round (also four-year deals with an option for a fifth exercisable after year three) the deals are coming in as fully guaranteed. I am not surprised, as the agents are extracting this gain after the amounts of total value and guaranteed money have been reduced so drastically.
Reneged deals?
With the crazy timing of this year – negotiations with free agents began on Tuesday with the first signings now technically allowed until Friday night – the potential exists for reneging by players on contracts that have been agreed to by agents and/or players. There are rumblings that this may have gone on with Brandon Stokley in Washington. I am not surprised. It happened to me in Green Bay (more to come on that later) and it will happen at least once this week. As to repercussions and not dealing with that agent again? We all would like to say that, but it depends on the player. If a team wants the player, it will deal with the agent again.
Follow me on Twitter @adbrandt