October 27, 2011 -
Barry Dorey
Moneyball in the NFL?
I finally saw Moneyball – a couple of earlier planned outings to see it were scratched (that parenthood thing). Despite a couple errors in the field, I thought that Brad Pitt, Jonah Hill and the supporting cast knocked it out of the park with a performance true to explaining the concept and its natural resistance from detractors.
A question I have often been asked since its release is whether these theories apply to and are being used in the NFL? The answer is a qualified yes, in varying degrees and with different levels of buy-in from top management.
Natural tension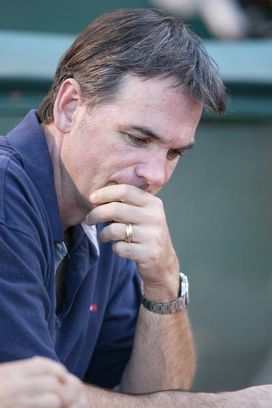 ICONBilly Beane wanted to change the way baseball players are evaluated.
The concept of Moneyball in its simplest form is the following: quantitative statistical analysis can more precisely indicate a player's future performance than previous evaluation models. It has been practiced for many years in baseball in varying degrees: its use by new Chicago Cubs' general manager (and presumed future savior) Theo Epstein -- who has had and will continue to have the benefit of a large payroll -- is different from the way it was used by Billy Beane of the Oakland A's as depicted in Moneyball.
Naturally, subscribing to this theory puts a decision maker in the crosshairs of the traditional scouting model, one that relies on seeing and physically and mentally testing the player, with results in a scouting report to compare with hundreds of others.
The movie depicted the natural tension between the tried and (sometimes) true old way and the untried analytical way of evaluating for future results. As Pitt – in his role as Beane – says ominously to his scouting staff in one of the more poignant lines of the script: "Adapt or Die."
Traditional Scouting Model
Football scouts are often former players who usually rise through the ranks first as area scouts -- responsible for a certain region – to, if they are successful, national scouting directors, swooping in to evaluate the prospects of their choice around the country.
During this time of year, football scouts have the following routine: (1) show up early in the morning at the administrative offices of a college team (often bringing doughnuts for the support staff to curry future favorable treatment); (2) watch tape of the senior prospects, sharing the prized right to drive the clicker with other teams' scouts; (3) track down staff for unfiltered information on the players – usually strength coaches are go-to guys for this; (4) grab a quick lunch while jotting down notes; (5) watch practice in a designated area with the other scouts; and (6) write up their scouting reports munching on room service dinner.
With this grueling schedule for at least half the year, one can see the resistance to a new and different way of analyzing talent, especially done by those without sports backgrounds.
Scouts can also become territorial about players they have evaluated, often frustrated that coaches are not using them correctly. With that reaction to coaches, who often have similar backgrounds to scouts, one can imagine the reaction to analytical guys.
Early stages in Green Bay
As vice president with the Packers, I was not a statistical/analytic guy but tried to create better cost-efficiency for evaluation and flexibility. My goal was to give us the most "bang for the buck" by using the considerable skills of our scouting staff and our financial and performance data for our maximum benefit.
The scouts had their "War Room" with player cards showing their measurables: height, weight, 40 and shuttle time, broad jump, hand size, Wonderlic score, medical grade, etc. I had our "Cap Room" with player cards showing my measurables: contract expiration, salary, bonus, proration, dead money, agent, etc. One wall showed every team's present and Cap and cash allocations for every position, offense, defense, etc.; another wall showed our team color-coded for priority and contract expiration; another wall showed a financial evaluation of teams and players; a fourth wall showed potential free agents and their evaluations.
Both Commissioner Roger Goodell and NFLPA Chief Gene Upshaw took an interest in the Cap room. Upshaw tried to send staff out to replicate it but I was advised by the NFL to not allow the union further entry.
Lessons Learned
One example of our analysis showed the most successful teams were balanced in their spending on offense and defense, a trend that stayed true most years. Teams with large disparities in spending on one side of the ball tended to have less sustained success. That is information I shared with the scouts and we used in a way that could guide us.
This was just one illustration; there were many more that will not be shared here. It is interesting to me that Beane opened his system at the A's to Moneyball author Michael Lewis for everyone – including other MLB teams – to see. Beane wanted to "change the game" but by making that public, he lost some of his competitive advantage.
Early Adaptors
NFL teams may be more set in their ways than NBA, NHL or MLB teams. There are some early adaptors to quantitative analytics -- I estimate 6-8 teams having hired full-time statisticians to analyze data -- but they are loath to admit it, not wanting to flaunt it internally nor expose it to their competitors.
All a Metric
In my opinion, there is no need to choose between traditional scouting and analytics. They are both metrics. Just as a 40-time and a short shuttle are indicators of future performance, so is game tape and statistical models. Everything is part of evaluation. Ultimately, it is up to the decision maker to accept and utilize information that may be coming to him from a variety of sources. And, I do think the time will come where the words from Moneyball will ring true: adapt or die.
Should an NFL general manager draft a running back under 190 lbs., or a receiver who runs a 4.6, or a defensive lineman prone to bad games against lesser talent, no matter what the production? Everything should be looked at with as much statistical and performance data as possible.
Moneyball lives in the NFL, just in different degrees and under shrouds of secrecy.
Follow me on Twitter at adbrandt.